The picturesque landscape of Arizona is enough reason for anyone to consider moving there.
But if you are a young adult considering such a move, we might have many more reasons for you to go live in Arizona.
Various places in Arizona offer a moderate to low cost of living, low crime rates, high job prospects, fantastic social life, and quality housing. Since these factors are vital to the standard of living of many young adults, this state might be perfect for you.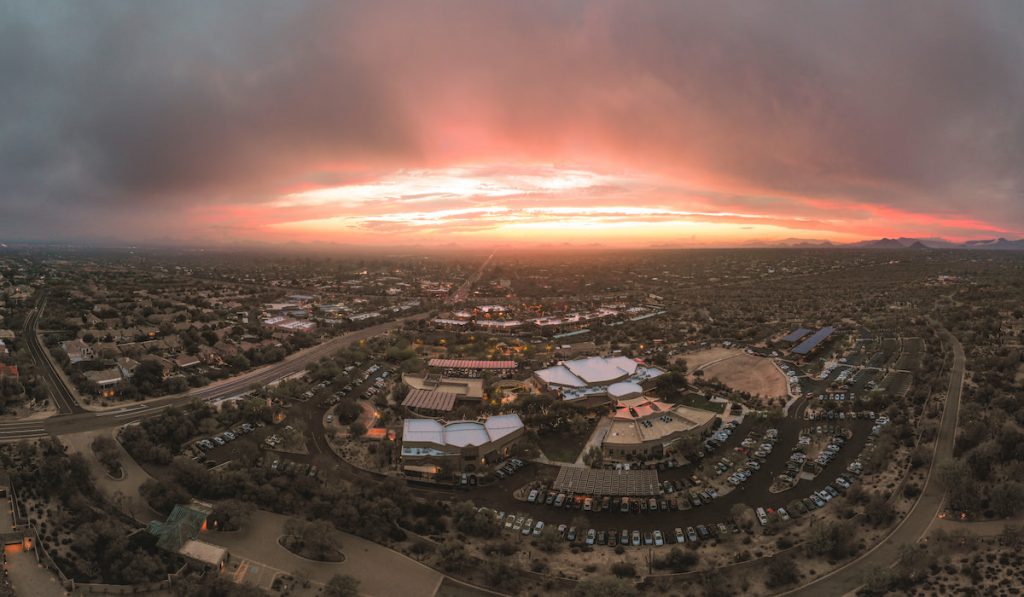 Below, we review the 15 best places to live in Arizona for young adults. With the info in this article, you should be able to find the city you will enjoy living in the most.
Scottsdale
Scottsdale is a popular Arizona location for young adults.
In Scottsdale, there are many opportunities for fun, from the International Film Festival to the Scottsdale Arts Festival and the Culinary Festival.
You can explore the desert landscapes, mountains, golf courses, trails, and shopping areas in Scottsdale. You may also visit the museums, studios, and galleries to enjoy art in various forms.
Besides all the excitement on offer, Scottsdale has a fair cost of living coupled with a decent median household income.
Tucson
Tucson is a town with a hip feel. Unsurprisingly, it is pretty popular amongst students and graduates of the University of Arizona.
Tucson is one place with an extensive selection of fun outdoor activities. The various boutiques and restaurants are popular attractions for both residents and non-residents.
Besides the fun activities, rent prices in Tucson are generally low and wide-ranging. While rent in the downtown area is relatively more expensive, you can always find a place in Tucson to suit your budget.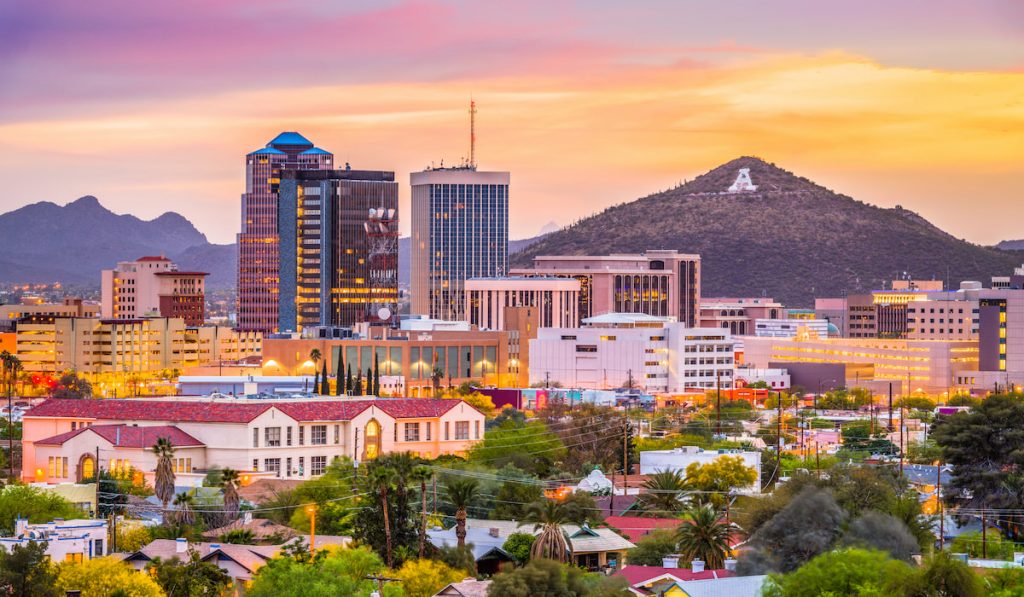 The median household income in Tucson is not high. But with a low to moderate cost of living, that should not be too much problem.
The transit score of Tucson is not great. Thankfully, the town is bike friendly. So, you can travel around on your bike.
Chandler
You can count on Chandler for serenity, affordable housing, and a fair cost of living. The serenity in Chandler comes from the quiet and calm atmosphere of the city.
While Chandler is not a place with as much intensity, you can still have fun at Tumbleweed Park. Grand Canyon National Park and Petrified Forest National Park are only an hour or so away.
If you are a young person in tech and would love to live close to people with similar interests, Chandler might work for you. The city is home to many tech workers, so you will enjoy the area.
Housing in Chandler is on the medium-to-high side. But then, the median household income is high. So, all in all, the housing is affordable.
Gilbert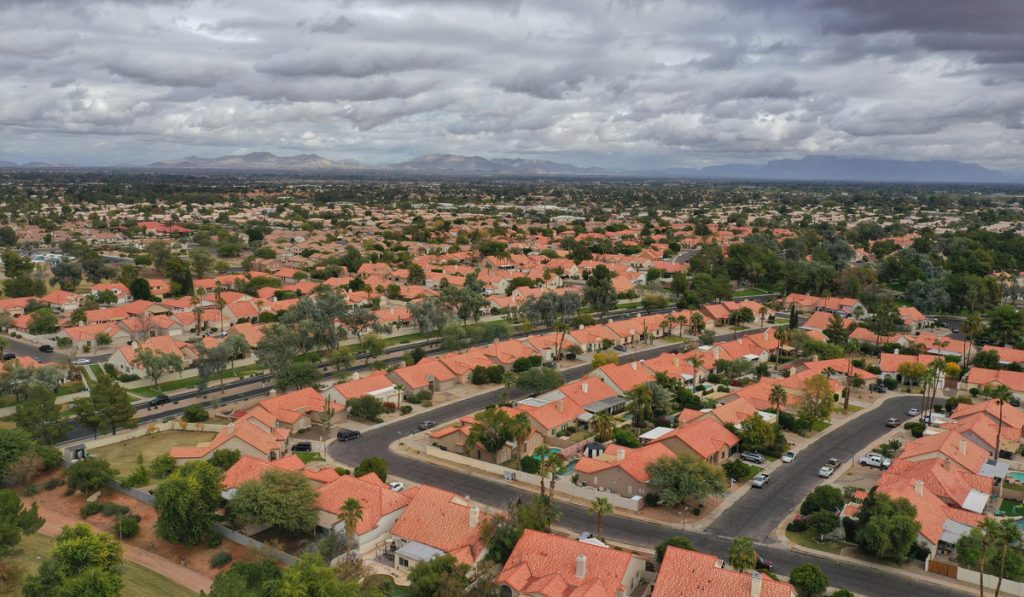 Gilbert offers a low crime rate, high job availability, high median household income, and inexpensive healthcare. Unsurprisingly, it is a popular residential destination for young professionals.
Besides these qualities, Gilbert bursts with leisure activities.
You can hike, ride hot air balloons, wakeboard, golf, or visit arts bazaars. You can also visit restaurants, farms, and wineries.
Beyond its recreational resources, Gilbert is beautiful. Transit is not great, but you can ride a bike around.
Phoenix
The capital city of Arizona does not fall short in any of the desirable metrics a young adult would look for when choosing a place to live.
For one, the nightlife is top-notch, thanks partly to the thriving college life. Also, the environment is beautiful – the picturesque landscape Arizona is famous for.
In Phoenix, the economic factors are satisfactory, the job market is booming, and there's a lot of diversity.
The cost of living in Phoenix is relatively low, and the median household income is intermediate. Also, the city is generally safe.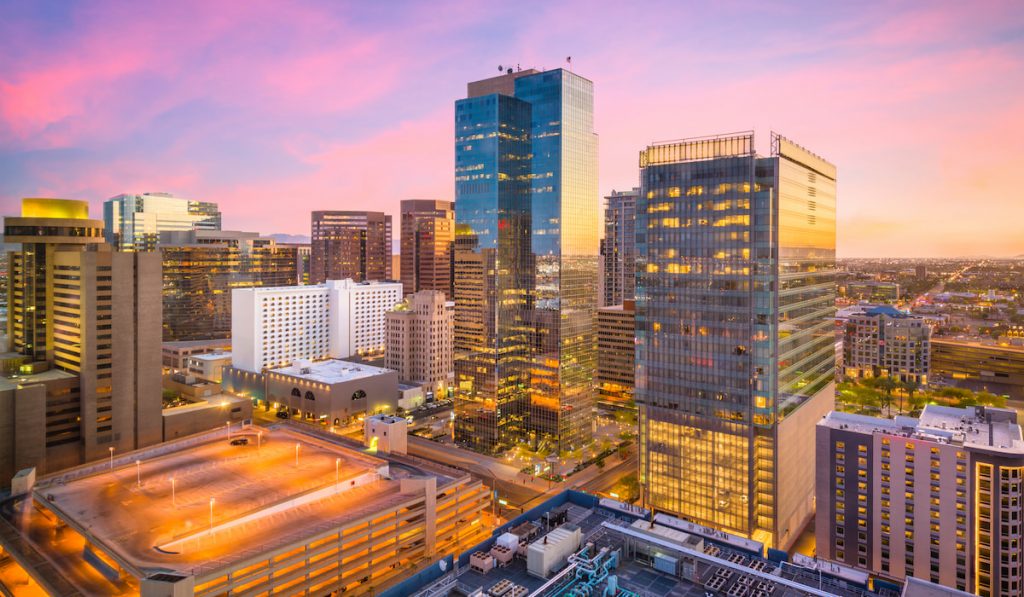 There is no shortage of fun activities in Phoenix. There's a lot to enjoy, from museums to bars, restaurants, and wildlife. The bars in downtown Phoenix are especially lively.
Phoenix is the most populous city in Arizona by a mile. But this is not surprising, considering all the upsides to living there. So, if you are looking to move to Arizona, it should definitely be on your shortlist.
Mesa
Mesa has a similar metro feel to Phoenix, but it is not as crowded or fast-paced.
Mesa offers a relatively low cost of living, teeming nightlife, and diversity. The median rent is not too high or too low, and the median income is about the same as in Phoenix.
One great thing about housing in Mesa is the low property taxes. Since the property taxes are low, the rents rarely ever go up.
Mesa does not lack attraction sites; there are a lot of fun places to see. There are lakes and rivers for you to go boating or tubing on hot days. You can also go horseback riding and golfing too.
If you love arts, you'll love visiting the Arizona Museum of Natural History.
Mesa is pretty diverse. It is also one of the top five most populous cities in Arizona. Overall, it is a great place to live for young adults. But it is not quite as safe as other options on this list.
Tempe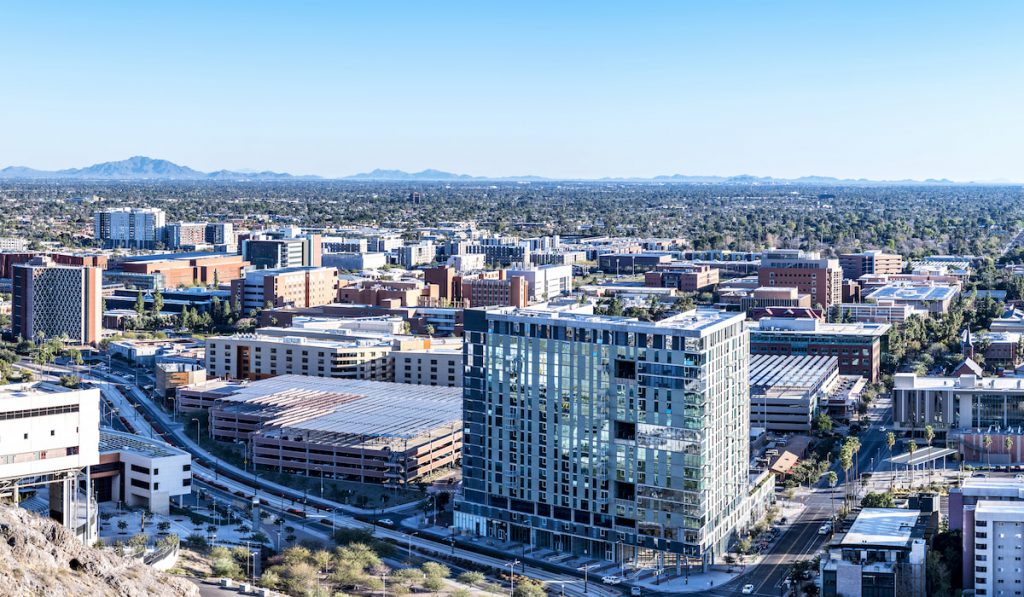 Arizona State University is in Tempe. The presence of college students contributes to the bubbling nightlife of this city.
Besides having exciting nightlife, Tempe is beautiful. There are many attractions to keep people of various age groups happy.
Some popular outdoor activities in the city include jogging, biking, and kayaking.
The influx of tech companies into Tempe contributes to the growing job market. So if you are in the tech industry, here's one more reason to move here. Tempe works well for remote workers.
Tempe has a low cost of living. The housing cost is wide-ranging, so there is something for everyone.
Glendale
Glendale is home to a diverse set of people. It offers one of the most affordable costs of living in Arizona. Rent is relatively cheap, and the average house price is pretty low.
The job market in Glendale is solid, especially for people in construction, retail, sales, and the service industry.
Glendale offers a lot of hockey and football. Besides sports, the city has many parks and lovely sights. For instance, the largest water park in Arizona is in Glendale.
Paradise Valley
If you say Paradise Valley is Arizona's slice of heaven, we will not dispute your statement. The town has one of the most scenic landscapes in Arizona.
But besides that, it has so many attractions. Paradise Valley has many parks, resorts, spas, and golf courses. Unsurprisingly, it is a hotspot for tourists.
While Paradise Valley is a great place to live, it is not affordable. The average rent and house prices are some of the highest in Arizona.
Strawberry
Strawberry fits the bill if you would love to live in an environment that reminds you of nature.
The small Arizona town has sights like Fossil Spring, waterfalls, ancient Ponderosa pines, and wineries.
Strawberry also has the Tonto Natural Bridge – one of the only natural travertine bridges in the world.
The average cost of living in Strawberry is slightly below the national average. But the housing and median house prices are a tad above the national average.
The median annual household income is also less than the national average. But if you are fine with these, living in Strawberry should be no problem.
Flagstaff
Flagstaff might be your dream come true if you love having fun outdoors. The city has many attraction sites, including the Grand Canyon, the Upper Lake Mary reservoir, and Arizona Snowball.
If you love stargazing, Flagstaff offers many opportunities for such. The Lowell Observatory even organizes public stargazing events.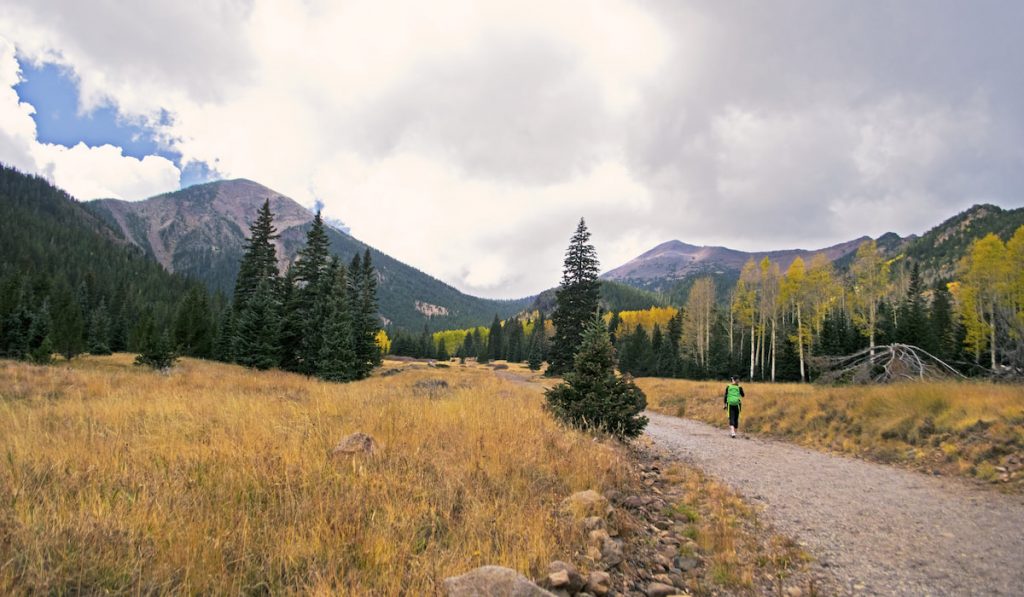 Beyond all the outdoor fun in Flagstaff, the job market is solid. If you work in tourism, government, logistics, education, and distribution, you'll love it in Flagstaff.
The cost of living in Flagstaff is higher than the national average. But the median income is not low, so they even each other out.
Cave Creek
Cave Creek offers the feel of a cohesive community. The town has a population of just over 5,000, so the community feel is not surprising.
This Arizona town does not lack scenic views; you are almost guaranteed beautiful mountain views from many areas. Apart from that, many restaurants and galleries keep you entertained. The shopping experience is also impressive.
Housing in Cave Creek is more expensive than the national average. But the median household income is pretty high. So, housing may not be a problem.
Peoria
Peoria is close to Phoenix. So, try out Peoria if you work in Phoenix but prefer living in a suburb with some serenity and quiet.
The landscape in Peoria is beautiful: The houses are lovely, and the streets are clean. Housing in Peoria is neither too expensive nor cheap. But then, in many cases, residents get value.
Fountain Hills
Fountain Hills got its name from a fountain in the middle of the city.
The fountain is one of the top attraction sites, but it is not the only one. Fountain Hills has playgrounds, a golf course, and a park – Fountain Park.
Fountain Hills is generally affordable. It has some of the best views in Arizona, and there's a lot of comfort in this place.
Oro Valley
Oro Valley has seen a tech boom in recent years. This boom contributed to its charging growth. The job market is solid, especially if you are in the tech industry.
So if you needed more incentive to move there, here's one. The cost of living in Oro Valley is high, but with that median income, it may not be much of an issue.
Oro Valley has low crime rates. It also has a rich arsenal of outdoor activities, especially sports.
Resources