Moisture control is one of the main concerns with any basement flooring. For houses in colder climates, moisture always seems to find its way inside, so having protective flooring that is comfortable is a priority.
What type of flooring is the best for a basement?
When things get chilly, it's easier for vapor to develop on floors and walls. The best flooring for your basement will mitigate water entry and keep your floors in great condition for years.
For example, if there are bedrooms downstairs, your preferences will be different than if you're using your basement for storage or as a workshop.
Some people prefer a mixture of carpet and hard surfaces. For example, the bedrooms get softer carpets, while the common spaces get more durable hard flooring that is easier to clean.
If you're finishing your basement for the first time or renovating older flooring, here are some of the best options available.
1. Vinyl Plank Flooring
Viny planks that look like wood floors are trendy in U.S. homes right now. They cost a fraction of natural wood, but they look great and are extremely durable.
You don't need to call for a professional flooring technician to fix a missing plank. All you need to do is buy matching planks and replace any damaged ones.
Vinyl is also an excellent choice for basement flooring because it is weather resistant. It will stand up well in hot and cold temperatures, so you don't have to worry as much about water damage or warping when the seasons change.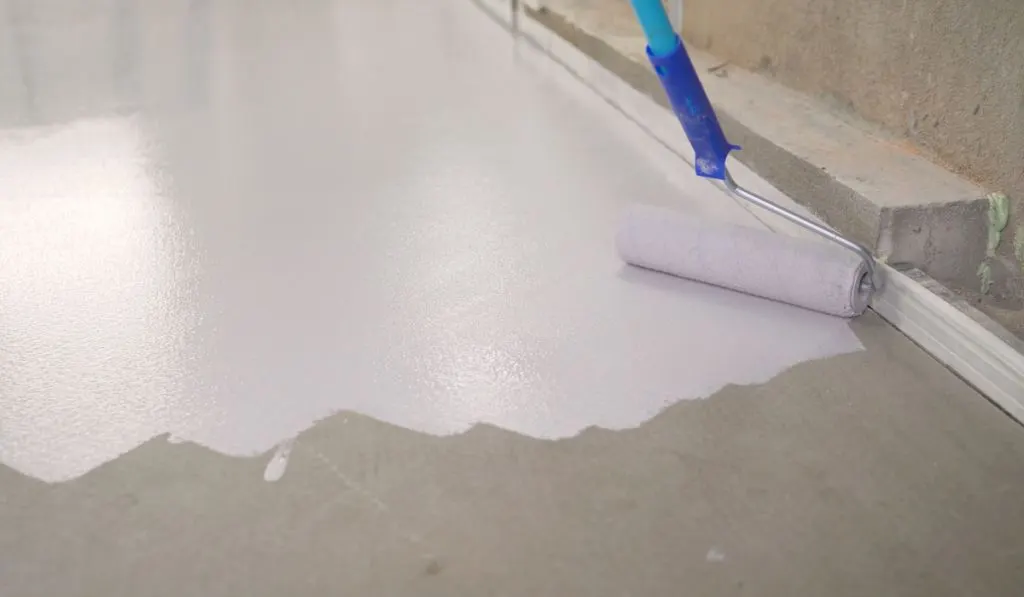 2. Paint Your Floors
Do basement floors have to be filled? Not necessarily!
This is a great option if you use your basement as a crafting station or a kids' playroom. Save yourself some money and paint over the concrete to give your basement floor more color.
Painting is an easy DIY project that you and your family can do in your spare time. You can immediately start clearing the space and masking the walls to prepare for painting.
All you need are some brushes, high-quality paint, and a few hours of time to spare. Then, if you're inclined, you can look for painting inspiration online to find cool patterns to use for your basement floor.
Get creative, and when your paint ages or chips, simply brush another coat on or change things up and add a new color.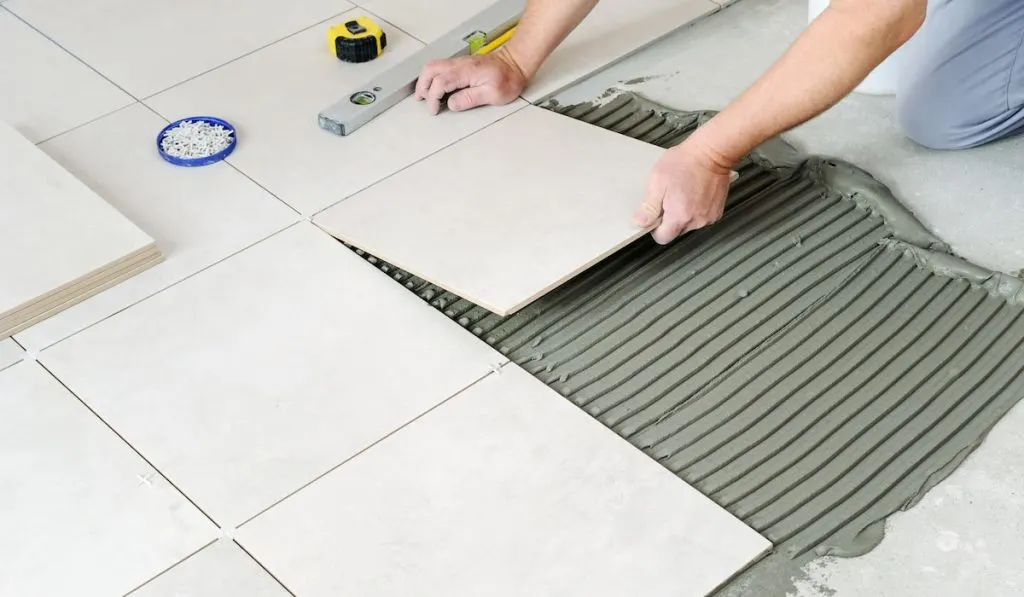 3. Tile Flooring
Tile floors take a bit of time to install, but you'll love them once they're in. You can buy tiles in various price ranges, so take some time to research materials, colors, and shapes. Then, you can choose how you want the layout in your basement.
If you want, you can have fun designing tile layouts with mosaics or assorted colors to make your basement look unique. Tiles are an easy way to cover concrete floors with something that looks good and will last.
For comfort, you can always spread area rugs over floors near couches or tables to give your feet more cushion. People living in colder climates will notice that tiles in the basement get very cold in the winter, so make sure to wear socks when you go downstairs!
4. Sheet Vinyl
We've already covered vinyl plank flooring, but other types of vinyl are even easier to install in basements.
When you install sheet vinyl, you or whoever you hire for the job custom-fit the sheet to your floor plan. Then, they cut the sheet and stick it to the subflooring that is on top of the concrete. So, it looks like vinyl or wood planks without the heavier price tag.
The sheet vinyl is also extremely easy to clean since the flooring has no ridges or lines. You can buy sheet vinyl in an assortment of colors and styles based on your preferences.
A significant plus of sheet vinyl is that it is possible to install the flooring yourself. You don't need to hire someone; the material is inexpensive enough to mess up and try again if you don't like how it looks.
Typically, vinyl sheets come in large enough rolls to give it a few tries in smaller basements.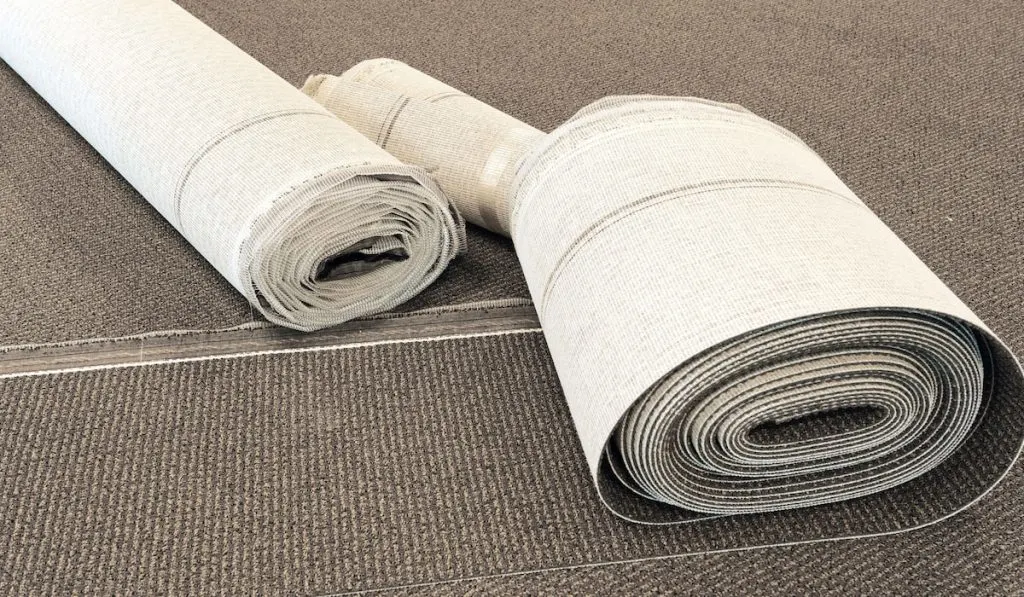 5. Carpet
People with basement bedrooms for kids or living room dens where the family gathers to watch TV love carpet because it's warmer and more comfortable.
A carpet is also safer because it's not slippery. Too many people injure themselves in basements because they slip on smooth floors. If you're moving around a lot in your basement, it's much safer if you've got carpet under your feet.
6. Slate Flooring
Slate tiles are a premium tile that will enhance your basement like few flooring options will. However, if you're interested in slate, it's advisable to hire a professional because you don't want to damage the natural stone, which can be a bit fragile.
The main drawback with slate is that it costs much more than cost-effective options like vinyl, but if you have the budget, give it a shot! It looks terrific and lasts for years. You also get better moisture resistance with natural stone.
7. Engineered Wood Flooring
It looks like old hardwood floors, but the manufacturing process makes it resistant to scratches and dings.
This flooring comes in interlocking planks that are easy to install. You will need subflooring for engineered wood, but once that's in, the pieces adhere to it nicely.
Engineered wood floors come with multi-year warranties, and you can choose from a spectrum of colors and grains.
After installation, you or a professional flooring technician can waterproof them with sealant for an added layer of protection.
8. Rubber Flooring
With rubber floors, you get a child-proof basement for whatever the kids want to do downstairs, whether it's jumping around or shooting foam projectiles at each other.
Rubber floors come in varying thicknesses, so you can choose something thicker if you're lifting weights or working with heavy tools.
Also, rubber floors are extremely easy to clean. There are no seams, so all you need is a broom or a vacuum, and you'll make quick work of any mess.
Installation is also very simple. You can use carpet tape to install the rubber flooring as a temporary solution, or you can use permanent glue if you're sure you want to keep the floors long-term.
3 Things to Consider When Choosing Flooring for Your Basement
The material you choose impacts how your basement looks. Another thing to note is that it also affects how your home will perform in cold weather, heavy rain, and other climatic conditions.
Here are three things you should consider when choosing flooring for your basement.
1. Do You Need Subflooring?
Not every basement flooring option needs subflooring. Unfortunately, most homeowners don't know how to install subflooring, so you're likely going to have to hire someone for the job.
Before you get too excited about your next DIY project in the basement, look to see whether you need subflooring before you purchase any flooring materials.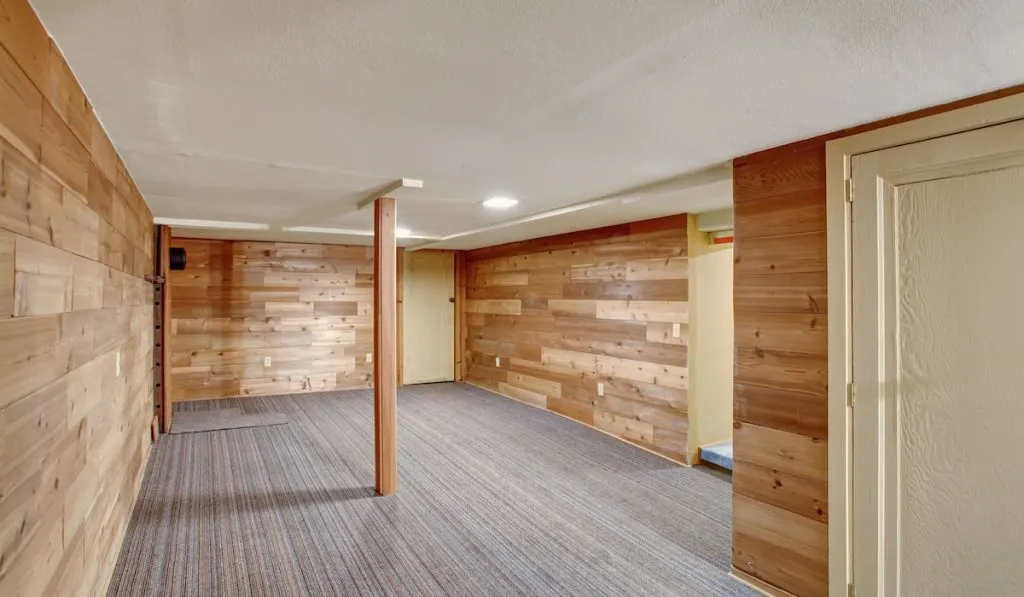 2. Warranties
This is important if you're spending a lot of money on your home renovation. Ask about weather and water damage coverage because warranties often do not cover that.
3. Replacement Costs
People are usually rough on their basement floors. The basement is where the indoor trampoline or pool table goes. It's where your teenagers will roughhouse and drop things constantly.
In addition, you need to know how easy it is to replace any damage; otherwise, you'll have to look at missing chunks of flooring for much longer than you would like.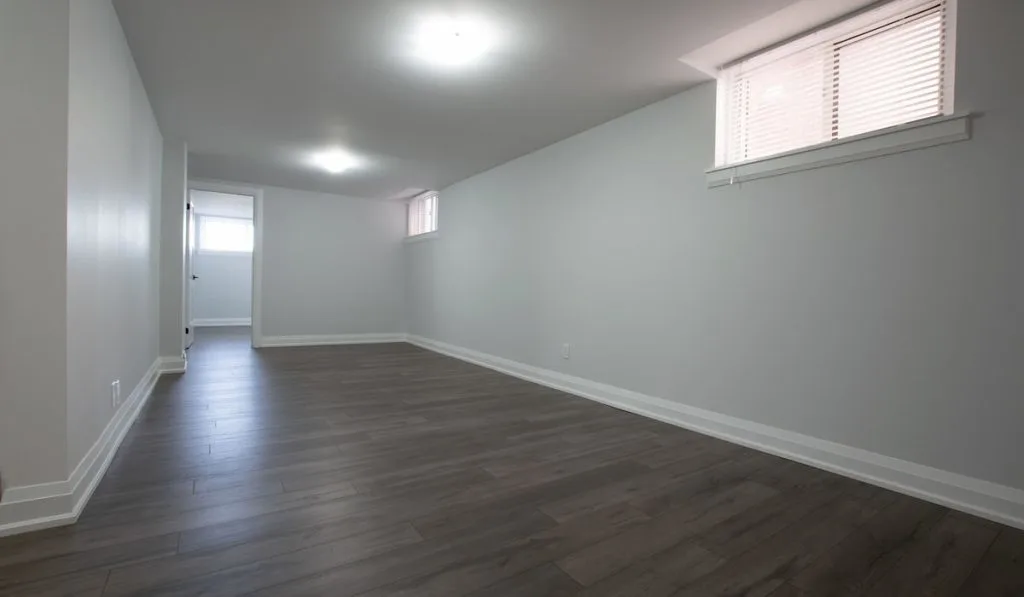 What Type of Flooring Is Best Over Concrete?
The majority of basement floors are concrete before they're finished.
You should also consider how much time you will have to spend when installing your choice of flooring or whether you'll have to hire a professional for the job. Certain materials take longer and will require more maintenance than others. If you're up for the task, then the sky's the limit!
Conclusion
Basement owners have more choices than just vinyl, wood, and carpet flooring. Now, various flooring options deliver a mix of performance, style, and affordability.
Take a look into some of these choices to find a flooring material that suits your needs and climate best. Pay attention to how the flooring material reacts when in contact with water and make any external adjustments to keep moisture levels manageable.
Resources