Moving can be hectic and figuring out how to move a fish tank to a new home can be intimidating. Fish can be challenging to transport, as they are delicate and require extra care. 
Continue reading for eight tips on making your fish tank move as seamless as possible. We'll also discuss other factors to keep in mind.
Factors to Consider
Some of the things you need to have in mind are:
Distance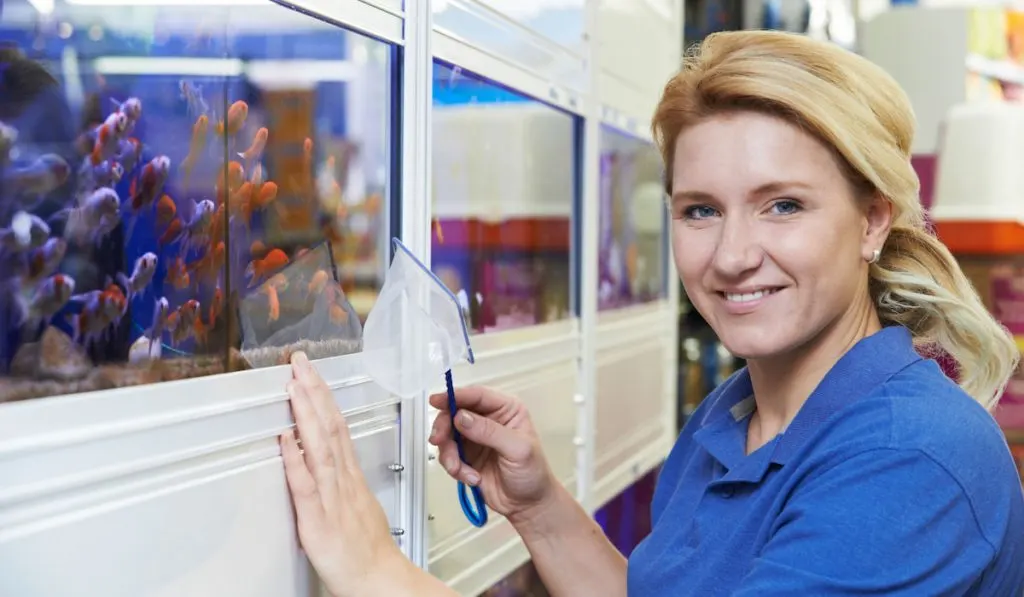 The distance between your old home and your new home is crucial. You want to protect your fish from stress, as this can change their behavior and appetite, and it could even kill them.
Try not to transport your fish over long distances, since this can increase stress.
Even when your fish arrive safely at your new home, you may not have enough time to properly set up the fish tank.
It may be best to leave the fish tank with a friend and collect it once you are settled in your new home. If the journey is too long, you may even want to give your fish away.
Alternatively, talk to a local pet store about transporting your fish. Some pet shops can arrange for air shipment. 
Equipment
You'll need the right equipment to move your fish tank. Gather the required equipment at least one week before the move.
Some of the equipment you need includes:
Containers to transport water, decor, and gravel
Fish nets and/or siphon hose
Wire strainer
Leveling shims
Hand cart
Vacuum
Bubble wrap and/or blankets
Water conditioner
Floor protection
You may also need special equipment like an air pump, a de-chlorinator, or a testing kit to check the pH level of the water in your new home. 
Preparation
To move a fish tank, begin preparing at least two weeks in advance.
You need to replace the water in the tank two weeks before moving day. You must also clean the filters and prepare the right conditions for the fish.
8 Tips for Moving a Fish Tank
With the above factors in mind, keep in mind these tips when moving your fish tank.
1. Prepare Fish Beforehand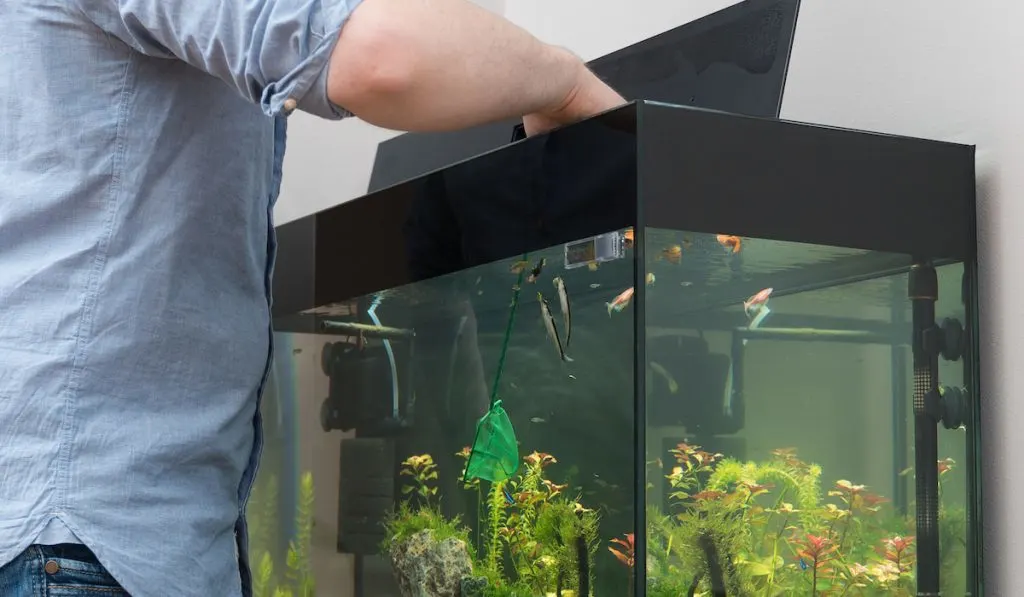 Never move a fish tank with the fish inside.
Empty the tank but save some of the water and drain it into a clean plastic bag. Reintroduce this water after the move.
This helps the fish better transition to their new home, and it could prevent shock.
2. Monitor Conditions
Ensure the fish are comfortable during and after the move.
You must monitor and control salinity levels, water temperature, water type, silt levels, plants, and anything else that could affect the fish tank's ecosystem. 
3. Clean the Tank
After emptying the tank, clean it thoroughly and remove any dirt that has built up.
This is also an excellent time to check the tank's condition to ensure it's safe to transport. 
You may need to replace a damaged tank or any fragile parts. 
Use a clean towel to dry the fish tank. Wrap the tank in bubble wrap and add thick blankets to protect the glass during the move. Finally, secure the blankets with packing tape.
4. Don't Feed Fish
Avoid feeding your fish twenty-four hours before the day of the move. 
Fish can survive without food for one week, so missing a day should be fine. This ensures that the water in the buckets or plastic bags remains waste-free during the move. 
5. Be Careful
The fish tank should be as level as possible during the move. Any tilting or twisting of the tank can damage the sealant that holds the glass sides. 
When you get to your new house, ensure that you place it in a firm, clean, and level area away from direct sunlight.
Ensure that the fish spend as little time as possible outside their tank.
6. Pack Decorative Elements Carefully
You should pack items like treasure chests, rocks, and artificial plants in paper before adding another layer of bubble wrap for protection. 
Place everything in a cardboard box and label it. 
7. Take Precautionary Measures in Your Vehicle
If you're planning on moving your fish by car, make sure you do it properly. 
Use a plastic bag when transporting fish in the car. Make sure it is strong and clear and fill it up halfway with water.
Fill the bag with water from the fish tank to keep your fish alive. 
Fish can only survive for about 1 hour in a plastic bag.
If your move will take longer than 1 hour, buy pure oxygen and put it in the bag. Oxygen is available in most aquariums and pet stores. 
8. Hire a Moving Company
Moving a fish tank is delicate and challenging. In addition to keeping the fish comfortable, you must also ensure the tank doesn't break.
An experienced moving company can help you safely pack, wrap, and transport your fish tank. This will reduce the chances of damaging the tank. 
Final Thoughts
Moving a fish tank can be daunting. However, use our tips to better prepare for the move, ensure your fish survive, and prevent any damage to your tank. 
Resources