If you ever want to escape to a sunny, bug-free experience without leaving your home, you just might be able to. Florida rooms offer you a means to enjoy the sun right in your house without having to worry about bugs, sunburn, sand, or bursts of wind.
You might be wondering, what is a Florida room?
A Florida room is an extension attached to the back or side of a home. It is a room created to allow maximum sunlight and air in. Florida rooms got their name from the state of Florida, where they are popular. But they also go by other names.
You are probably already giddy over the thought of having a Florida room in your home. Well, lucky for you, we have got information that will help in your quest. The rest of this post is centered on Florida rooms, their purpose, their cost, and alternatives.
What Is the Difference Between a Florida Room and a Sun Room?
Remember we said Florida rooms go by other names? Well, one of those names is sunroom.
Sunrooms and Florida rooms are terms that can be used interchangeably. They both refer to an extension of your home constructed with windows on multiple sides. The windows allow for maximum inflow of natural light and a scenic view of the landscape. They may also come with a skylight.
Florida rooms may also be insulated and fitted with heating and cooling units. When such fittings are present in a Florida room, it becomes adaptable to seasonal changes in temperature.
Thus, it can be classified as a 4-season room. Without the heating & cooling fittings, a Florida room is basically an enclosed patio.
In some cases, Florida rooms may come with décor. Some of them include various indoor plants, comfortable furniture, and even a fully functional outdoor kitchen or a pool.
Florida rooms were popular back in the mid-1900s. While their popularity faded for a while, there is a resurgence.
Back then, Florida rooms featured gliders, jalousie windows, rocking chairs, and terrazzo floors. But you will find that those features are absent in modern-day versions.
These days, Florida room décor varies widely and is suited to fit different climates.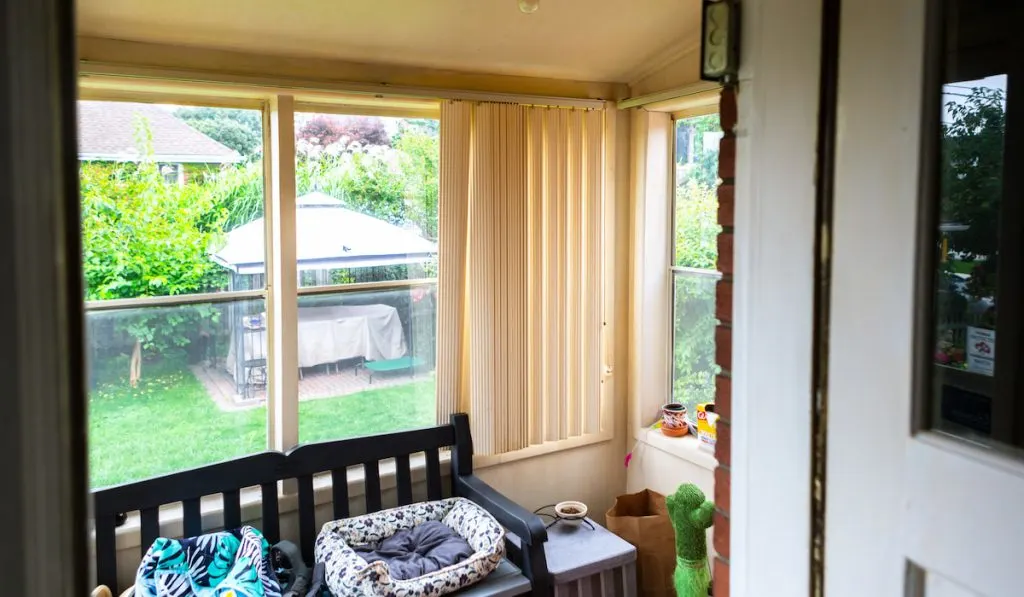 Difference Between a Lanai and a Florida Room
Like a Florida room, a lanai offers you a means of enjoying the outdoor experience. However, both types of structures are different.
Unlike Florida rooms, lanais are typically open on all sides, except when there is a wall connected to the main building. Nonetheless, lanais may be screened.
Florida rooms are always connected to the main building. But lanais may or may not be connected to the main building.
Also, the floor in a Florida room is typically same as the floor in the rest of the house. Lanais, on the other hand, are built with concrete floors. They may also not have a finished ceiling, but Florida rooms usually do.
A Florida room will come with electricity and insulation. But lanais usually do not have any of these. Bottomline, Florida rooms are more part-of-the-house than lanais.
Purpose of a Florida Room
Florida rooms can serve various purposes in a home. Besides offering outdoor ambiance indoors by exposing you to the sun and fresh air, they can serve as a relaxation spot.
In your Florida room, you can relax with a book, with family, and with friends. You may also include a bar or a pool in your Florida room to entertain yourself. A Florida room can also serve as a play area for kids.
All in all, the purpose of a Florida room is to enjoy outdoor ambiance without its downsides. So, it is almost like you are outside. You will get sunlight and a scenic view, but no heat, no sunburn, no bugs, no burst of wind, and no sand.
Besides the above, some people build Florida rooms to increase the value of their homes. If you construct a Florida room in your house, the resale value will go up.
However, in many cases, Florida rooms may be excluded from the Gross Pricing Area of a property. But with heating & cooling units, it will be included.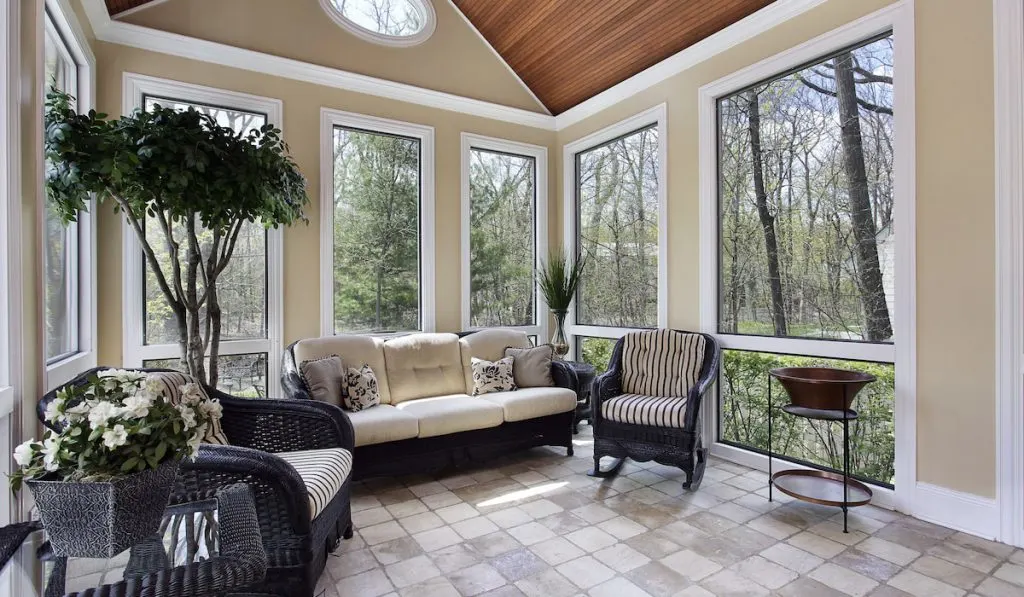 Florida Room vs. Screened In Porch
One of the many alternatives to a Florida room is a screened-in porch. But how do these 2 spaces compare to each other? Let us see.
Florida rooms and screened-in porches both provide a bug-free environment. But that is about the main similarity between both spaces.
The walls of screened-in porches are made from mesh screens. These allow the flow of fresh air while keeping out bugs. A Florida room, on the other hand, is enclosed with glass or acrylic windows.
Since it is usually enclosed, it typically comes with heating for winter and air conditioning for summer. Of course, since there will be heating and cooling, Florida rooms have electrical outlets.
Unlike Florida rooms, which can be used in various seasons (3 or 4 seasons, depending on the design), screened-in porches are used when the weather permits.
Typically, screened-in porches should be fine for use from March to October. Outside this period, the weather becomes too cold for you to stay outdoors.
Then there is the cost of building them. Screened-in porches are generally less expensive to build than Florida rooms. In fact, constructing a Florida room can cost you up to twice the amount you will spend on a screened-in porch.
| | | |
| --- | --- | --- |
| Features | Florida Room | Screened In Porch |
| Cost | More expensive; about twice the cost of a screened-in porch. | Not as expensive as a Florida room. |
| Heating and Cooling | Florida rooms typically come with heating and cooling. | Screened-in porches have no heating and cooling. |
| Wall Finishing | Florida rooms are typically enclosed with glass or acrylic windows. | Screened-in porches are typically made with mesh walls. |
| Usability | Florida rooms can be built for 3 seasons or 4 seasons (all through the year). In other words, they can be used for most parts of the year or all year round. | Screened-in porches are suited for when the outdoor weather is not harsh. |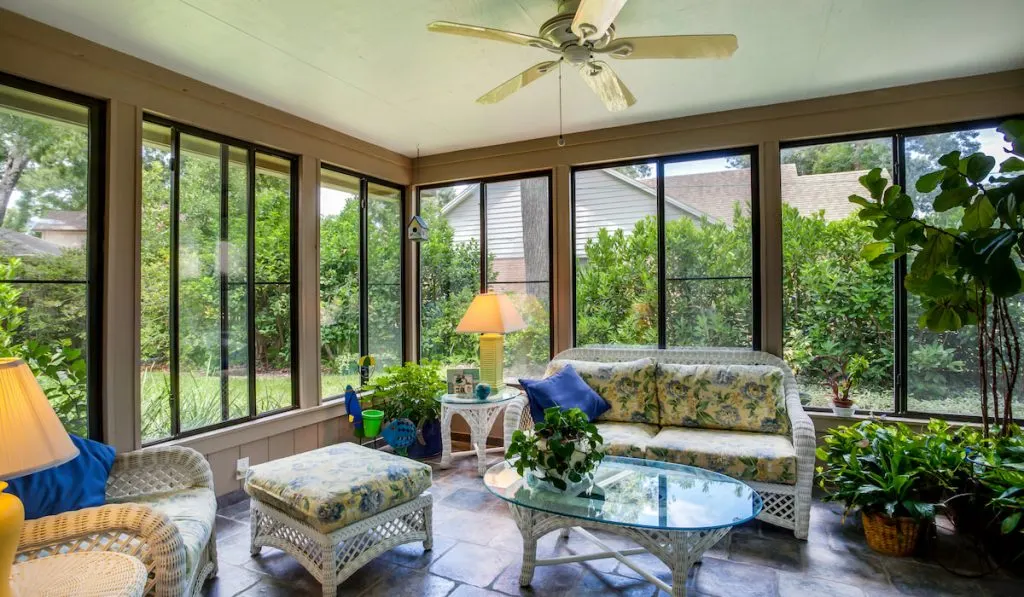 How Much Does a Florida Room Cost?
Various factors play a part in determining the cost of a Florida room. Some of these factors include the following:
The existing structure. If you have a patio in place already, you will not have to spend so much, unlike when you have to build the Florida room from the ground up.
The size of the room. Of course, the bigger the room, the more you will spend.
The fittings. Florida rooms may come with various fittings: indoor plants, ornate fountains, lights, electrical outlets, and much more. The presence or absence of each fitting will factor into the cost of your Florida room. Also, the quality of each fitting will play a part in determining how much you spend.
The windows. If you opt for glass windows in your Florida room, you will spend more. Glass windows cost more than acrylic windows. However, they are more durable, and they provide better insulation.
The roof. The type of roof you choose for your Florida room will also determine how much you spend. You could choose to get shingles, aluminum panels, or awning. Of these 3 options, awning roof is the least expensive. But it is not as durable as the other two.
According to Home Advisor, a Florida room can cost between $5000 and $80,000, depending on what you want. The national average cost of building a Florida room is estimated to be around $30,000. The average unit price is estimated to be $150 to $300 per square foot.
Summary
Florida rooms are typically constructed at the rear side of the house. They allow the reception of maximum sunlight while blocking out heat, bugs, and wind.
Florida rooms are built as part of the house, and they serve as a relaxation spot. However, they may also be constructed to raise the value of a property.
Resources