Warm weather, sandy beaches and vibrant culture, Miami, Florida is a diverse and exciting city to live in. Miami is surrounded by two national parks, the Everglades National Park and Biscayne National Park.
With its humid and tropical climate, Miami is perfect for those who enjoy the active, outdoor lifestyle. The city of Miami is considered extremely walkable with an array of shops, restaurants, bars and a lot of entertainment options within range.
With its booming art scene, amazing nightlife and incredible dining experiences, you'll never run out of things to do in Miami.
Take part in events happening all around Miami from food and music festivals, to fashion shows and music conferences. Miami has one of the best healthcare in the world and boasts reputable schools.
Miami has a lot of charming and beautiful neighborhoods to live in, each area has its unique vibe and character.
Wondering where to live in this vibrant and diverse city? Here is a guide to the best places to live in Miami, Florida.
1. South Beach
Miami Beach's long southern stretch is the South Beach which boats miles of pristine sand, culinary hot spots and dazzling nightlife. A trendy area in Miami, South Beach is known for its rich urban culture.
South Beach is also called "Art Deco Playground" for its notably stunning historic ArtDeco architecture. Hang out at the beach, shop at the Lincoln Road Mall and stroll through Ocean Drive. There's definitely so many things to do in this neighborhood.
South Beach has a walkable beachfront full of fancy boutiques, fine dining and buzzing nightclubs. This is also an attractive place for fitness buffs, with plenty of gyms and a long shoreline for you to exercise outdoors.
Soak up the sun and the scene on its postcard worthy shoreline and Florida sun. Although South Beach is a crowded and upscale neighborhood, if you want to be in the middle of all the happenings, this is the place to be.
South Beach is one of the most exclusive communities in Miami. Most residences in the area are apartments and high-rise condominiums that offer impressive views of the ocean or the downtown Miami skyline.
All the condo units are an easy walkable perimeter to the famous beach. Prices are higher the closer you are at the but you can easily get around to the area by public transportation, bike or on foot.
2. Miami Beach
With its gorgeous scenery, diverse culture and non-stop nightlife, Miami Beach is an ideal place to visit and live. Miami Beach is a small town and is easy to get around although it does get crowded.
Miami Beach is one of the top US tourist destinations and is rich in history. There are an abundance of restaurants, bars, museums, art galleries and entertainment centers all around the area. One of the best medical facilities, the Mt. Sinai Hospital is also located in Miami Beach.
3. Key Biscayne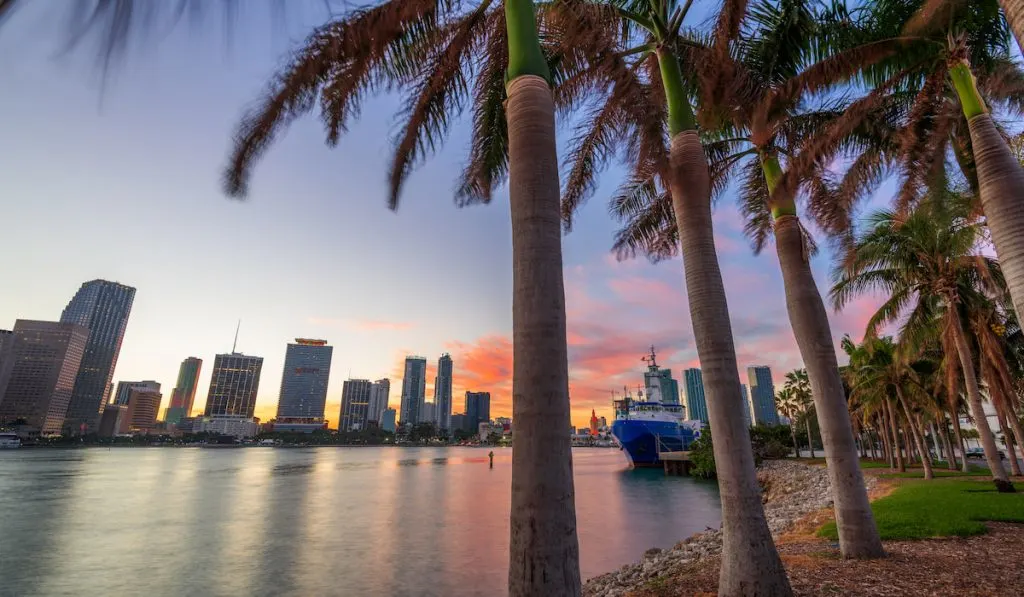 Key Biscayne is a luxurious and residential neighborhood just south of Miami Beach, a 15-minute drive from Downtown Miami. Key Biscayne is situated on a barrier island and is nestled between two major parks – Crandon Park and Bill Baggs Cape Florida State Park.
The island is connected to the mainland by the Rickenbacker Causeway. It is surrounded by water with long stretches of sandy beaches and palm trees.
This island paradise of Key Biscayne is known for its vibrant and laid-back culture. Peaceful, quiet, clean and well-maintained, Key Biscayne is one of the best places to live in and is well-suited for families.
Water activities such as snorkeling, paddle-boarding and fishing are common in the area. They have some highly ranked schools, lavish homes, several public marinas and access to a plethora of shopping and dining options.
Key Biscayne is an island which has the amenities of a city. You can find city amenities in this island such as malls, movie theaters, shops, restaurants, bars, golf courses, tennis courts and so on.
There are ranges of casual to fine-dining restaurants in the island with different cuisines. The Square Shopping Center has the most shops, restaurants and cafes in the island.
Key Biscayne has a strong sense of community and has numerous volunteering work like cleanup programs and other environmental volunteer projects.
Luxurious high rise-condos with resort-style amenities fill up the northern end of the town. While on the southern end with its more suburban vibe, this is the area where you will find large family homes.
The most sought after and expensive properties are waterfront which allows the residents to dock their boats and access the open ocean.
4. Coral Gables
Coral Gables is one of the most beautiful and desired neighborhoods in Miami with its 20th century spanish architecture, lush greenery and serene atmosphere.
There are fountains and sculptures found in public spaces which gives Coral Gables a quaint and romantic feel.
Filled with boutiques, museums and top notch restaurants, this peaceful and quiet neighborhood has a spanish-inspired charm and beauty. The University of Miami is located in this area as well as excellent public and private schools.
Coral Gables is a mix of business and residential area, with the downtown area being a financial hub with many corporations headquartered there.
Coral Gables is also home to a high-end residential neighborhood with luxurious condos, single-family homes and waterfront mansions.
5. Coconut Grove
Coconut Grove is a laid-back and historic neighborhood just east of Coral Gables and has easy access to Biscayne Bay.
It is one of Miami's oldest neighborhoods. It has breathtaking scenery with its mangrove-lined parks, lush environment and historic architecture.
A walkable neighborhood with its charming streets, art deco residences and gardens. The downtown strip and bayfront area has various bars, boutiques and restaurants.
At Coconut Grove, you'll come across Miami's largest marina. Here, the boating culture is vibrant with sailing and yachting activities. Spend the day out on the water, dine al fresco on the numerous outdoor restaurants and stroll in the parks.
Visit the many attractions of this area like The Barnacle Historic State Park and Kampong Tropical Garden. The different styles of the houses in Coconut Grove gives off a harmonious and charming diversity.
In the downtown district this is where you will find reasonably-priced apartments and older condos. New high-rise condos are being developed near the bay area. Larger houses and mansions are located within the gated area and secluded corners of Coconut Grove.
6. Brickell
Tall building and urban vibes, Brickell is the city's financial district. If you love to be in the middle of all things, love the city atmosphere and its accessibility, this is a place to live.
It has a convenient location and amenities with walking distance to the trendy restaurants and bars and the busy nightlife scene. This area buzzes with activity day and night.
Its vibrancy and energy will get you attracted in this fast-paced urban lifestyle of Brickell. They have great public transportation that connects residents to South Miami, Coconut Grove and the Miami International Airport.
This financial area is fast becoming a residential area too. Seafront skyscrapers, residential highrises, Brickell is city living with waterfront views.
There are few townhouses and mansions that are tucked in the area and most of the residents are living in high-rise modern condominiums.
7. Pinecrest
An area just south of Coral Gables and a few minutes from Downtown Miami, Pinecrest is a popular destination and residence for families.
It is a suburban village and has a picturesque scenery with its tree-lined streets and beautiful mansions with manicured landscape gardens.
Pinecrest has a stable housing market and a convenient location. There are numerous daytime activities in the area such as a weekly Farmers Market and other local events.
Plenty of great, local parks in the area where you can enjoy with your family and friends and a friendly and tranquil neighborhood which is good for walking or cycling.
Although shopping and dining is limited, nearby areas such as Coral Gables and Downtown Miami are just a few minutes away.
8. Wynwood
An artistic, trendy and up-and-coming neighborhood in Miami, Wynwood is packed with culture, art and innovation. Wynwood is filled with art galleries, stylish bistros and bars, artisanal coffee shops and a thriving fashion and art scene.
Its unique, hip and urban charm that holds numerous events in the area draws people in. Stroll along the streets and admire the neighborhood's many colorful murals and street arts.
Wynwood has ranges of high-rise and mid-rise residential condos in the area.
9. Edgewater
An easy walking distance to the heart of downtown, Edgewater has excellent choices of restaurants, shops, cafes and first-rate schools. The area has great nightlife and entertainment and has a vibrant social scene.
There are a range of properties in Edgewater to suit most budgets. Expensive condo developments in the waterfront and more affordable accommodation options much more inland of the area.
There are new condo developments which offer luxury residences and resort-style amenities which boast stunning views of Biscayne Bay.
Resources: