Over the years, the best places to reside in Orlando have gradually become some of the hottest and trendiest areas in the United States.
Orlando has enough natural beauty to captivate any nature lover. With the convenient and thrilling lifestyle it provides, people have discovered the best places to live in Orlando.
Like every major city in the United States, Orlando divides into hundreds of neighborhoods.
So how do you know the best areas to live in and which spots you should avoid? When the time comes to choose the right place in Orlando to live in, there are several factors you need to consider.
Some of these factors include ease of commuting to central areas and safety & low crime rates. You should also confirm to know if the personality of the neighborhood matches yours.
So, let us just get to it now. In the rest of this post, we will talk about some of the best places to live in Orlando, Florida.
At the end of this article, you should know more about what part offers the best restaurants, nightlife, inspiring locations, amongst other notable spots.
Here is a list of some of the best places to live in Orlando, FL:
1. Azalea Park
If you love nature Azalea Park could be the best place in Orlando for you. Azalea Park has tons of trails, natural beauty, and parklands. The neighborhood also provides excellent opportunities for birdwatching.  
Azalea Park may sound like a sleepy neighborhood but do not worry. It has a lot to offer. These include attractions, nightlife, and restaurants you can enjoy on weekends.
It is also easily accessible to some other parts of the city, including downtown Orlando.
Do you want to live in a pleasant area with excellent coffee shops, abundant entertainment opportunities, and nice restaurants? Give Azalea Park a try. It may just be the Orlando area that meets your taste. 
2. Lake Frederica
If you enjoy a wide range of activities and are looking for where to reside in Orlando, then Lake Frederica might be the place for you.
Lake Frederica is an urban space with natural splendor. It also happens to have a character and personality of its own. The proximity of Lake Frederica to the airport and downtown makes it rather convenient.
Lake Frederica also has a transport hub that has access to all of Orlando. There is also a lake nearby and plenty of restaurants to visit.
If you enjoy a bit of nightlife Lake Frederica may not be the spot for you. However, Lake Frederica has its appeal if you take the time to search for the right areas.
Overall, Lake Frederica has a unique style and vibe, which you may not find elsewhere.
3. Conway
Conway provides several dining and shopping opportunities to keep yourself occupied. You will find them in a central hub that offers you easy access to all of Orlando.
Conway and the international airport are pretty close to each other. So, you also get some ease of access if you ever have to travel by air.
If you want to enjoy some fine dining, there are some upscale restaurants to visit. You can also visit popular chains or local eateries.
With enough water recreation activities, lakes, and trails to enjoy, you may forget you live in the city without being far from it.
Interestingly, several new apartment buildings are admitting young residents. So, diversity in this area is on the rise.
4. Kirkman South
If you enjoy places with maximum walkability, then Kirkman South is the ideal place for you. If you can find the right spot, there are several opportunities and activities within walking distance from your home.
You have delicious restaurants, shopping, and nightlife to keep you occupied.
Kirkman South is conveniently close to downtown Orlando where there are enough parking and a nonstop vibe to make you exhausted.
Kirkman South also offers a ton of activities. These include cafes, outdoor adventures, museums and attractions, and libraries.
Kirkman South is an ideal place to call home if you wish to take advantage of these unique activities.
5. Windhover
As one of the major cities on this list, Windhover will give you that Orlando FL feel. Windhover offers some of the best nightlife, bars, and clubs in Orlando.
Windhover is a highly diverse area giving people from different backgrounds a chance to enjoy the city.
Windhover also offers an easy commute to downtown plus walkable attractions and restaurants. Windhover is both fun and convenient. Windhover might be the place for you to reside if it matches your personality.
6. Williamsburg
Williamsburg offers sufficient housing opportunities, tons of attractions, and exquisite restaurants. The moment you step foot in Williamsburg, you will like the unique vibe it gives.
Williamsburg is just a train ride or a short drive away from downtown. You get to experience new restaurants opening each week. It also has a busy nightlife, and bars remain open late. 
7. Lake Nona
Just southeast of the Orlando International Airport is where you will find Lake Nona. It has a business hub and park for play and work opportunities.
Lake Nona is one of the best Orlando neighborhoods to reside in. You can choose from an array of new homes to rent.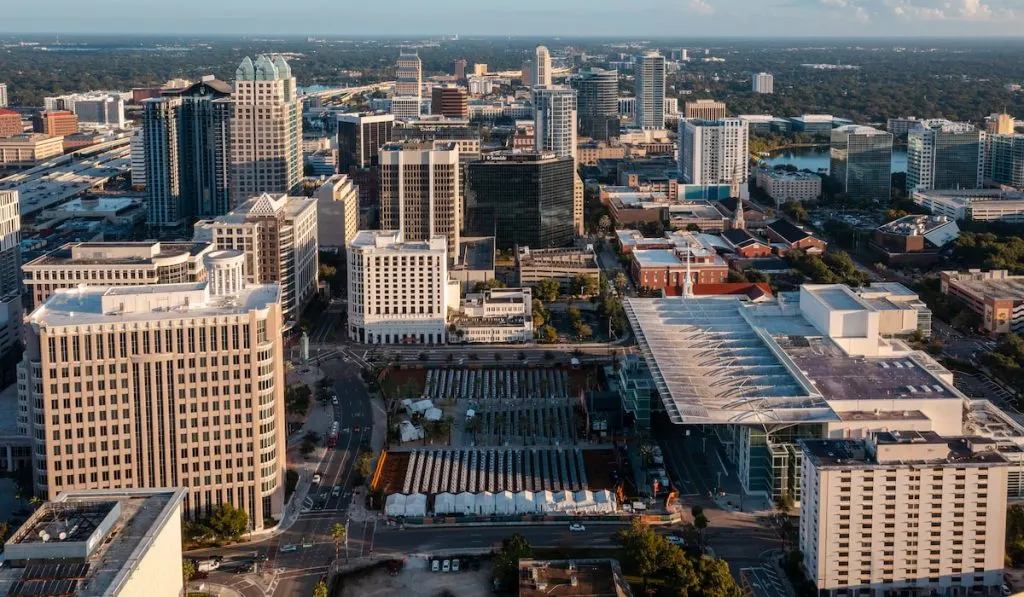 Lake Nona is also well designed for those who love to remain active. There are several playgrounds, walkways, and gardens. These are all ideal spots to enjoy the afternoon sunshine.
You can get an outdoor table at Canvas to enjoy the waterfront view. You can also show how good you are at 90 hittings with a range of 220 yards. The drive shack also offers free games like skeeball.
At Lake Nona Town Center on Friday evening, you can participate in the Art After Dark stroll. It features art displays, adult beverages, special exhibitions, and music.
8. Baldwin Park
Baldwin Park is located east of downtown Orlando on the site of a former United States Navy Center. It has a mixture of new and community apartment buildings.
If you are looking to ditch your car, Baldwin Park offers residents a highly walkable neighborhood. It is an ideal spot for biking or walking to restaurants nearby. You will also enjoy its porch sales, bars, and concerts.
Some of the famous spots in Baldwin Park are Osprey Tavern and Nest Bar.
If you are looking for upscale amenities, Baldwin Park is the place for you. You can search for new developments and modern apartment buildings.
9. Thornton Park
If you are looking for a boho-chic vibe with a European feel, you may like Thornton Park. Thornton Park district offers organic cafes and trendy boutiques.
You can visit Washington Street, where you will enjoy a decorative fountain, wine bars, and cafes with outdoor seating. Residents of Thornton Park participate in wine walks and weekly art.
Those are two more activities you can get yourself involved in while living in Thornton Park.
Thornton Park also has pop-up markets and farmer's markets. Spots like Graffiti Junktion and Burton's Bar have popular happy hours are frequented by locals.
You can look for apartments in craftsman homes and upscale bungalows. You can also select a modern apartment building that has a swimming pool. Many of these apartments are a short walk from the boutiques.
10. South Eola District
South Eola District is in the heart of downtown Orlando.
For urban dwellers, South Eola District is one of the best places to reside. You can choose from a range of homes, including upscale apartment buildings and high-rise buildings.
South Eola District has some exciting facilities, including gyms and pools. Residents also enjoy dining, entertainment, and shopping at their doorstep.
Then on the weekends, they visit Orlando Farmers Market to pick up fresh produce.
In South Eola District, you can visit Disney's outdoor amphitheater, Opera Orlando. At this place, you can enjoy a live performance, or you may go paddle boating.
The rest of downtown Orlando is just a short walk from South Eola District. All in all, South Eola District offers numerous options for dining and nightlife.
11. Lake Highland
Lake Highland is situated in the Park Lake Highland area. It is known to attract people who wish to live along the waterfront. Lake Highland is a peaceful neighborhood and is close to downtown Orlando.
Lake Highland offers sanctuary from the grind and bustle. You can meet other residents at Lake Highland Park during downtime for a waterside walk. You can also clear your head as you admire the city skyline view or while you fish.
After work, you will find locals on N Mills Ave at pubs and restaurants catching up. You can visit King Cajun Crawfish, The Strand, or Will's Pub for Gulf Coast specialties and shellfish boils.
You can also visit Nora's Sugar Shack, a local favorite to shop for gifts and cigars. You may also decide to cruise the Orlando Urban Trail for a fun bike ride.
Resources