Many things are peculiar to Florida: the weather, the attractions, the landscape, and much more. The coastlines of Florida are the longest of any state in the adjoining United States.
To the west is the Gulf of Mexico coastline, and to the east is the Atlantic coast.
Each of these coasts offers some spectacular locations. They are also suitable for one who desires a fulfilling and enjoyable lifestyle.
The allure of the west coast is its calm Gulf waters and white sandy beaches, which can be breathtaking. The west coast also has some stand-out attractions and beautiful cities.
If you need a location change and are considering Florida West Coast, we know some of the best places to live there. In the rest of this article, we discuss these places and what they have to offer you.
Here is a list of some of the best places to live on Florida west coast:
1. Bonita Springs
Bonita Springs is located between Fort Myers and Naples along Florida's Gulf Coast. Bonita Springs has some breathtaking beaches and is also home to the Barefoot Beach Preserve State Park.
Bonita Springs might seem slightly upscale, but it is actually affordable. The cost of living in Bonita Springs is just above the average in Florida.
In Bonita Springs, there are above-average schools with numerous employment opportunities. This charming location also has plenty of restaurants and shops you can visit. 
2. Apalachicola
Apalachicola is southeast of Tallahassee and east of Panama City.
It is one of the best places to reside if you are looking to get a tranquil space. Apalachicola is a small town with a friendly community and an old-world charm.
Not only is Apalachicola one of the safest places to live on Florida's west coast it is also affordable. Living in Apalachicola means you have to commute to work daily due to the lack of a job market.
However, Apalachicola is a safe and affordable space for retirees looking to reside on the west coast.
3. Pensacola
Pensacola is a famous vacation destination known for its white sandy beaches and warm waters.
Pensacola is also a city with a rich history. Formerly a Spanish settlement, Pensacola has strong ties to aviation history.
Currently, Pensacola has a navy pilot training base and is home to a popular attraction, the National Naval Aviation Museum.
Alongside its many positive features, Pensacola is also one of the most affordable places to reside on the Florida West Coast.
4. Fort Myers
Besides its beaches, there are several other reasons why Fort Myers is one of the best places to reside on Florida's west coast.
Many retirees call Fort Myers home, thanks to the city's general livability. But the city is not only suitable for retirees, as it accommodates residents of all ages.
Fort Myers also has top golf courses, an exciting downtown, restaurants, several shopping options, and an international airport. The cost of living in Fort Myers is also low and affordable.
5. St. Petersburg
Sitting along Tampa bay, St. Petersburg offers a mixture of urban and coastal living. It is filled with beaches that provide opportunities to enjoy water-based activities or spend time by the water.
The small historic neighborhoods of St. Petersburg have a small-town vibe. You also have the option of living at the heart of the city's activity.
St. Petersburg has plenty of attractions you can enjoy, like the Dali Museum located on St. Petersburg's waterfront.
Other attractions include restaurants, museums, and theater companies. You can also visit the downtown district to check out the city's culture & art scene.
St. Petersburg also has an exciting night scene and often hosts multiple festivals and events each year.
Besides the exciting lifestyle St. Petersburg offers, there are several employment opportunities.
There are two main reasons why St. Petersburg attracts people. First is the affordable cost of living, and second is the quality healthcare available.
6. Naples
Naples is home to several residents and is famous for its shopping options and golf courses. Even with its reputation for being a millionaire's playground, renting and buying homes is affordable.
Naples is walkable with pedestrian-only areas. Residents of Naples have a lot to enjoy in their spare time. Naples has some other positive features, including the low crime rates and high-quality schools.
7. Sarasota
Sarasota has something for everyone, including several lifestyle options.
For one, Sarasota has spectacular beaches that suit those looking for the ideal coastal life. On the other hand, Sarasota is a busy city for those who prefer an urban vibe.
Sarasota has a beautiful coastline with white sandy beaches, which offers residents stunning outdoor spaces to enjoy their free time.
It also has an upcoming culinary food scene and is revered for its award-winning beers.
Sarasota offers an excellent culture & arts scene with many exciting attractions.
If the Sarasota lifestyle is not enough to change your mind, check out the prices for buying or renting property. The housing market in Sarasota is affordable and has something for all budgets.
There are houses with lovely views, historic properties, mid-century homes, and modern homes to choose from.
8. Cape Coral
Cape Coral is listed as one of the safest places in Florida to reside. It is one of the features that attract people to this city. Cape Coral provides employment opportunities across several sectors and is an affordable option to consider.
Although Cape Coral offers something that suits all ages, it is an ideal destination for retirees due to the high senior population of the city.
The only downside to Cape Coral is that its educational achievement is poor compared to the average for the state.
9. Tampa
Tampa is described as one of the best places to live on Florida's west coast.
There are several reasons why people like living in Tampa. But two stand out: the low housing cost and low crime rate. Residents of Tampa get to enjoy a mix of urban living with some coastal lifestyle benefits.
Another reason people consider moving to Tampa is the employment opportunities it provides. This is unsurprising considering the number of industries in the city.
Tampa also offers several leisure activities that satisfy all ages. All in all, it is a city with community diversity, and that makes it more welcoming.
10. Siesta Key
If you envision settling down in a beach town, then Siesta Key is the place for you. Siesta Key is located across the bridge from Sarasota.
The sandy beaches of Siesta Key allow residents to enjoy watersports, take coastal walks, or relax on the beach.
Siesta Key Village offers excellent cafes and shopping activities for your weekend. There is also a tennis court and playground, which is fun for kids. 
If you want to have some fun on the water, visit Point of Rocks and Crescent Beach. Over there, you will find coral reefs and tidal pools surrounded by limestone outcropping.
Another reason to consider living in Siesta Key is that property and violent crimes are lower than the state average crime rates.
11. Fort Walton Beach
If you are looking for a natural and quiet environment, you should consider moving to Fort Walton Beach.
Fort Walton Beach, home to over 20,000 residents, is known for its emerald-green waters, unspoiled beauty, and white sandy beaches.
Fort Walton Beach is near Okaloosa Island, which has attractions like Gulfarium Marine Adventure Park and the Indian Temple Mound Museum. At Gulfarium Marine Adventure, you get to swim among several species of marine wildlife.  
12. Gasparilla Island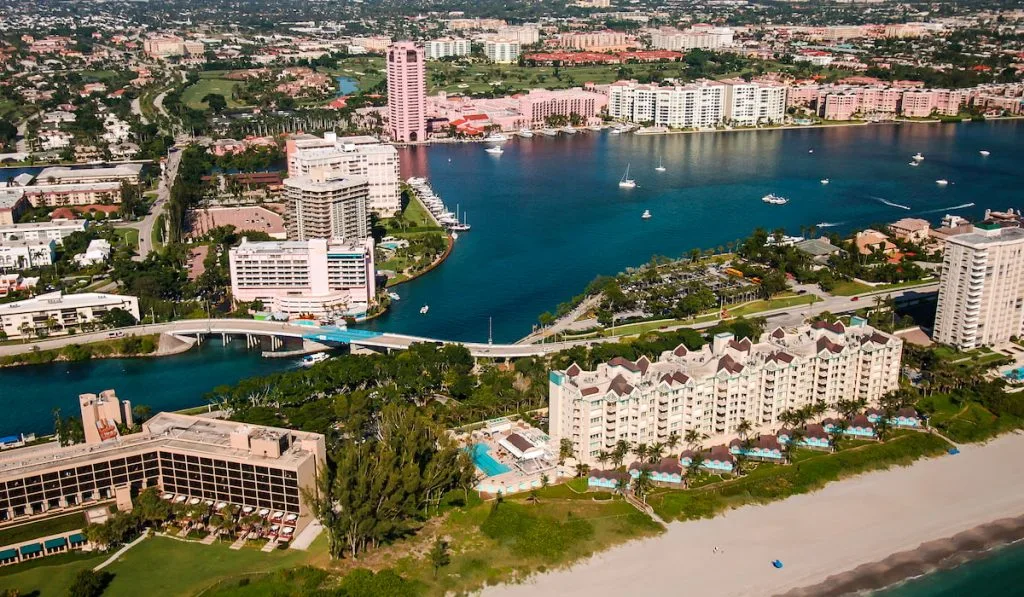 A thin island off Florida's west coast, Gasparilla Island sits between Fort Myers and Sarasota. Gasparilla Island is appealing with its streets lined with palm trees and pastel-colored cottages.
The sugar sand beaches of Gasparilla Island covers about seven miles.
A popular activity for residents on this island is fishing. When summer arrives, Gasparilla Island becomes a tourist hotspot as wealthy tourists flood the island for fishing vacations.
The epicenter of island life and community in Gasparilla Island is Boca Grande, a small fishing village. Gasparilla Island residents typically enjoy a quiet island lifestyle.
13. Alys Beach, South Walton
Another fascinating place to reside on Florida's west coast is Alys Beach in South Walton. Alys Beach is a new town that has been developing along the Gulf Coast.
The buildings in Alys Beach are built around narrow streets and courtyards.
With the Moroccan-style design of the community swimming pool, Alys Beach looks like an affluent area in Marrakesh.
The layout of Alys Beach is based on a green lifestyle. The streets are built to reduce runoff from rainwater accompanied by drought-resistant plants.
Numerous activities take place in Alys Beach as it hosts several food and art festivals.
Resources