Over the past years, we've seen a massive change in how people are choosing where they live. Companies are implementing more flexible policies that let people work from different places, and people are more focused on quality of life than ever.
People, naturally, are drawn to Florida because of several reasons. It's got a great climate for people who would rather not spend all winter freezing, it's a no-state income tax state, and there are a ton of fun activities for people who love the outdoors.
There's plenty more, but people are certainly taking notice. Thousands of out-of-staters are moving into Florida, and not just to the Miami area.
If you're thinking about relocating to Florida, whether for retirement or to find a job, the panhandle is a great option. Here are some of the best places to live in the Florida panhandle that should be on your list.
1. Tallahassee
The state capital isn't the biggest city in the state, with a population of under 200,000 people, but it still has a lot going for it.
The resources in the city make it an ideal place for people who want great restaurants, nice housing, and good infrastructure.
There are large universities there (Florida A&M and Florida State University), and downtown Tallahassee serves as a cultural and activity hub that's got something for everyone.
You can stroll through a weekend farmer's market or attend a musical performance, and the area's affordability makes it a great choice to put down roots in.
2. Destin
For beach lovers who don't necessarily love crowds, Destin is a great location with amazing beaches and weather.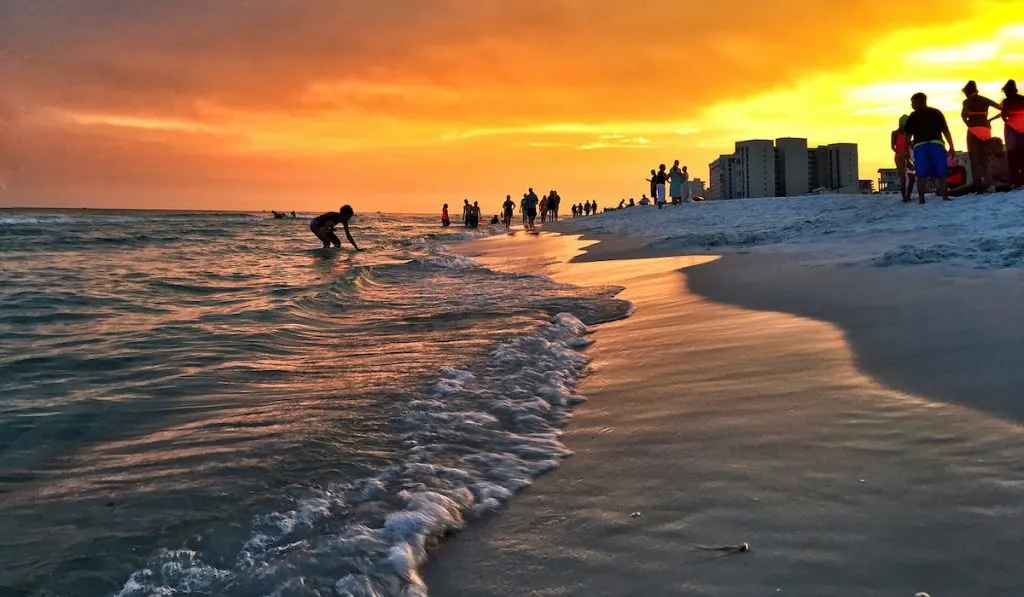 Destin has a great boardwalk area where people can get in exercise and a bite to eat as they feel the steady ocean breeze. There are a variety of restaurants, shops, and entertainment venues along the beach.
With only 14,000 people calling Destin home, it's got low crime rates and can be a wonderful family location. Beware the summers, though, because thousands of tourists come in to get a taste of the beach life.
If you're a job seeker, Destin has plenty of options in the tourism industry, but there's not much outside of hotels, resorts, and other hospitality jobs.
3. Seaside
If you're fleeing hectic city living, then Seaside could be the top choice in the Florida panhandle for you. This town was founded in 1985, and it's a small community of people who live in planned communities.
While that may be a concern for some, the planned community offers some fantastic walking trails, sporting venues, and manicured landscapes that make living there a dream.
4. Pensacola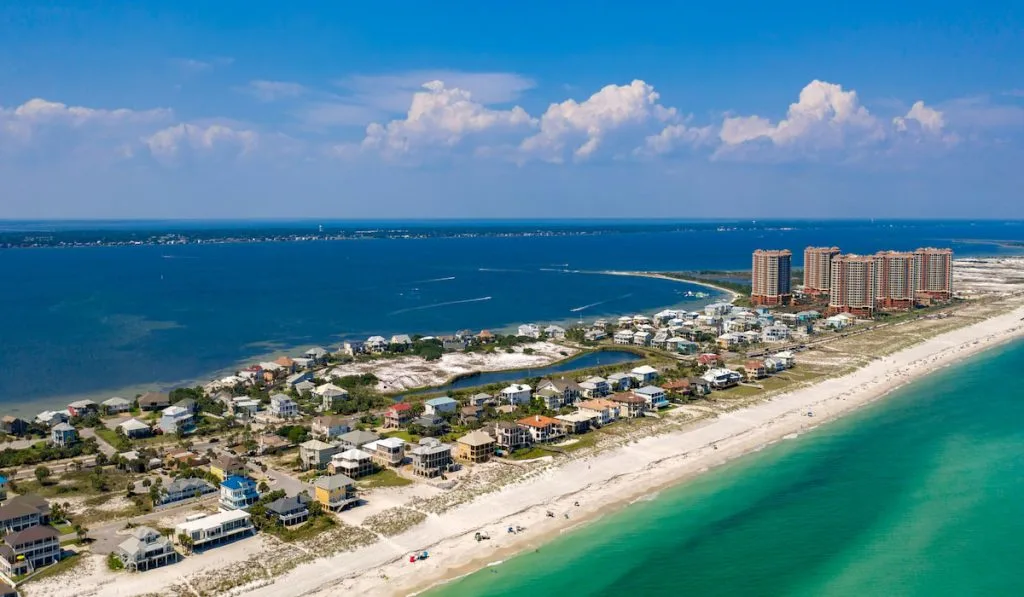 We're back to the big panhandle cities with Pensacola. Around 60,000 people call this place home, so it's not huge by south Florida standards, but it's got most of what you'd expect in a city in terms of restaurants and shopping.
This place is perfect for people who want access to great beaches but want some of the cultural benefits of living in a city. Think shows, incredible restaurants, and sporting activities. Here, you can get both at a relatively affordable cost of living.
5. Port St. Joe
Port St. Joe is another small town with great beaches. It's not the best place to go if you need to find a job in the local economy, but if you can work remotely or are retiring, this place could work nicely.
Only around 4,000 people live in Port St. Joe, and it's got a reputation as a quaint, relaxed town with access to some of the best beaches in the area.
6. Carrabelle
If you're 55 and over, Carrabelle offers some of the most activities and a vibrant retirement community.
It's where the famous Seaside Village is located, a sprawling community full of tennis, golf, movies, and other activities designed to keep retired people engaged and active.
It's like a large playground for people in their golden years.
7. Mexico Beach
Mexico Beach is one of the smallest, most laid-back beach towns in the panhandle. Here, you'll see some amazing beachfront homes and great white sand beaches.
The community is small, so it's great for people who want some space or like the small-town vibe.
8. Cedar Key
The same people have been living in and coming to Cedar Key for generations. It's an old-fashioned beach town with great beaches, good fishing, and plenty more activities that are perfect for a vacation or long-term living.
The relatively low cost of housing means you may be able to snag a beachfront home on stilts that lets you take in the sunset to the sound of waves lapping underneath you.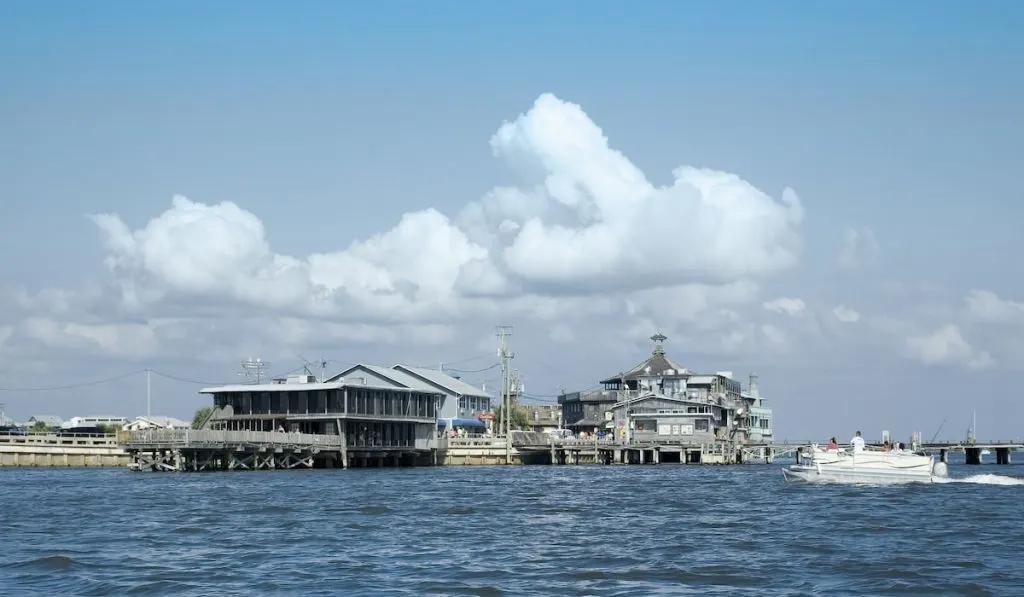 9. Lynn Haven
Lynn Haven is a nice choice for the cost-conscious folks who want the Destin vibe without the price tag. Lynn Haven is more affordable and is only a 20-minute drive from Panama City Beach.
It's got plenty of shopping options and big-box chain stores if that's what you're looking for. Outdoor activities include things like parks and golf courses.
Lynn Haven's on the water, which is nice, but better beaches are a drive away. It's what you get with the lower cost of living, so if it works for you this can be a great place to settle down. It's got low crime rates and only around 20,000 people live there full-time.
These are just some of the best places to live in the Florida panhandle. There are a lot of great options out there, and the best place for you will depend on what you're looking for in terms of population, activities, and proximity to a lovely beach.
If you're interested in relocating, take some of these names and go for a visit. With a car, you can stop and see a lot of different beach towns to help give you an idea of what living there will be like.
Resources