Where you live has a lot to do with whether your home project needs a permit. If you live in a state that tends to be strict about home changes, or you're in an HOA with tight guidelines, then most significant changes will need approval.
The permitting process usually comes into play for things like electrical changes, floorplan adjustments, exterior fencing, and other adjustments that change how your house looks and works. You can get by without a permit for simple upgrades like fixture changes, new paint, flooring materials, and carpet.
However, tearing down walls or installing a new bathroom upstairs will need to go through the permitting process.
Proceeding with home improvements that need upgrades without getting proper approval can run you afoul of local codes and laws. In addition, you may open yourself up to fines and other difficulties when you skip getting a permit.
It's better to know which types of home improvements usually need permits to avoid any trouble and get the permits you need so the renovations can proceed. Here are some of the most common home improvements that typically require a permit.
Exterior Fencing Needs Permits
It can feel strange to get a permit to make changes to a property you own, but that's just the way it is in many places.
For example, installing a new fence or changing the existing fencing around a house or any other property usually needs a permit because it can affect neighbors' views, interrupt underground pipes and gas lines, or cause other issues. Depending on the fence, it also changes the look and feel of a neighborhood.
In many areas, the fence you put in will have height restrictions. You can find out faster by contacting a local fencing contractor to ask them about the details. It beats waiting for an answer if you live somewhere that's known for responding slowly to information requests.
An experienced contractor will let you know what your limitations are, and they can give you a free estimate on fence work.
Changes to Walls, Floors, and Ceilings
Any structural changes to a house, church, apartment building, or school usually need a permit. Whenever you knock down a wall, build new rooms, or cut holes in floors or ceilings, you're going to deal with code and safety requirements.
Most permits are there to ensure you have the right plans to keep everyone safe and avoid risking the property's structural integrity. For example, knocking down support beams could lead to stability issues and, ultimately, a collapse.
The permitting system exists to ensure that you or any contractors you hire know what they are doing.
Making New Openings in Your House
Anytime you're thinking about building new windows, installing a skylight, or making a new doorway, you're going to need a permit. This is because variations and openings like windows must meet local fire safety codes.
In addition, you may need a specific type of glass or, depending on the position of the new opening, need to meet strict size requirements for potential emergency exits.
Installing new windows also frequently involves adjusting or cutting wooden beams in your home's framing. If you cut the wrong beams, your house's weight-bearing will be off, and you could start to notice cracks and stress in the wrong places.
New Siding Usually Needs Permits
Significant changes to a home's exterior, like changing the siding, typically needs a permit before work can proceed. New siding changes the entire exterior design of a home. If done incorrectly, it can damage the value of other homes in your area.
Poorly installed siding can leave gaps in your house for birds, snakes, and other animals to get in. For jurisdictions wanting to control pest populations, siding is a big issue.
Adding a New Deck in the Yard
Basic landscaping changes, like planting flowers or bushes, are usually no big deal. You won't need a permit to lay down mulch or plant grass in certain parts of your yard. People can install retaining walls or decorative rocks without too much trouble.
However, making significant changes to your yard will require a permit, especially if you live somewhere known for having strict rules around lawns. Even cutting down trees can be a hassle, and other changes can be challenging if you live in an area that emphasizes preservation.
Installing a new deck requires permits because it's a common safety issue. For example, people need to build and install decks suitable for the number of people who will use them. In addition, there are frequently height and size restrictions that you must adhere to if you want to avoid paying fines.
HVAC Work
Minor HVAC work won't need a permit. But you'll usually need approval if you're installing a new fireplace or installing new vents. You'll be fine if you limit your HVAC work to the regular filter changes, etc., but any changes to how your system is structured will need a permit.
Safety, again, is the main issue. Regulatory bodies want to ensure changes to HVAC systems keep people safe. Whether it's you or anyone else when you sell, they need to know things are up to code and avoid having to fix things down the line.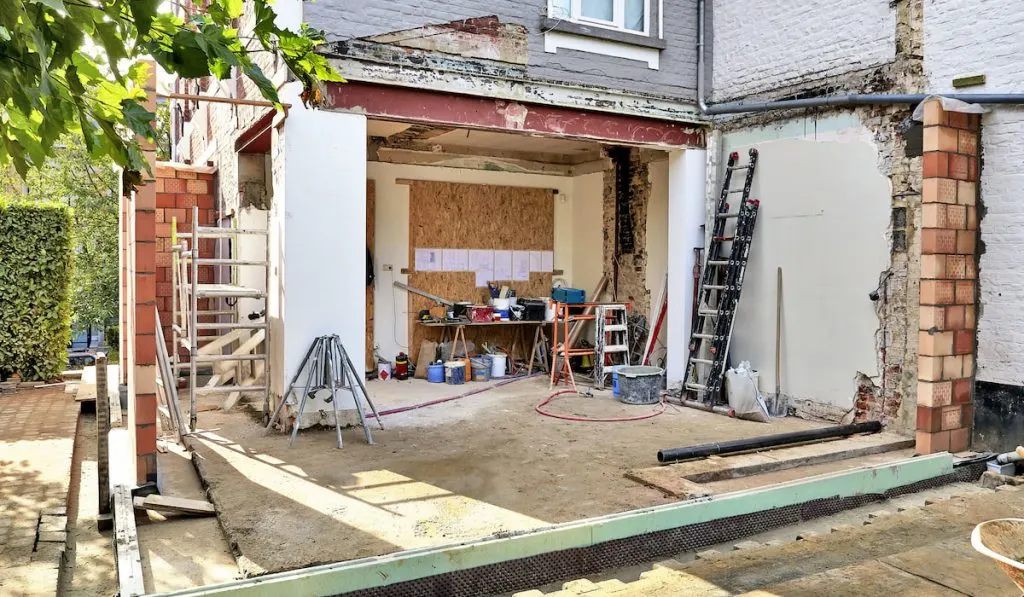 Additions
If you're buying a place that you plan on extending or are living in a smaller house and growing out of it, make sure you plan to get permits before you start renovating. In almost any city in the country, additions and other major renovations will need permits before work can start.
Some places have a total dollar figure. They give guidance to help people know when they need a permit. For instance, a city may say that any renovations that cost over $25,000 must have a permit. The limit will depend on each local jurisdiction.
Sometimes this applies even to things like backyard sheds or children's playhouses in the back yard. It all depends on where you live.
What If You Don't Get a Permit?
It's ok to wonder what will happen if you work without a permit. It's tempting, mainly because of how long the process can take. However, when working on your house, it's easy to try and get things done as quickly as possible.
However, failing to get permits opens you up to a world of trouble. You can face fines that will be much more than getting a permit. In addition, any contractors working with you will likely face more severe penalties that will affect their ability to do business in the future.
If someone is hurt due to bad electrical work, for example, you may have to cover those costs by yourself if you didn't have a permit when the work was done.
Finally, not having a permit will come back to haunt you when you decide to sell your house. Smart buyers will ask to see the permits before they decide to put offers in on your property. Once they find out you didn't have a permit, they'll likely move on and look elsewhere.
The best thing you can do is get started on the process early, so you avoid waiting for too long and you stay in the lines on any home project.
Resources