A study conducted by SmartAsset revealed that Texas is one of the states millennials are moving to for a better quality of life and in search of work. The state had over 180,000 millennials move in during the pre-pandemic year.
Despite Texas having the highest population growth rates in the U.S., it's one of the states with a high quality of life, affordable housing, low cost of living, and an ever-growing job market.
With over 40 cities to choose from, it can be daunting to decide where to live once you move to Texas. Fortunately, we've done the research. Here are some of the fifteen best places to live in Texas for young adults.
15 Best Places to Live in Texas for Young Adults
Some of the places you might want to consider when moving to Texas as a young professional include:
1. Richardson
Richardson is a growing city 14 miles from Dallas and home to 120,000 residents. This suburb has an easy commute to downtown Dallas, which makes it simpler to commute to work or the city.
The city is a booming economic hub, sitting between Plano and Dallas. This suburb is home to major employers like Samsung, Verizon Business, and DirectTV.
There are over 5,000 businesses ranging from telecommunication to insurance companies, which means many employment opportunities within different industries.
Richardson has you covered if you're a millennial looking for a place that combines big city life with a small-town feel. 
The city hosts the Dallas Arts District, which is the biggest contiguous urban arts district. You can visit the Tavern on Main Street for karaoke, live music, and football.
Its proximity to Dallas allows you to access various professional and amateur sporting organizations, like the Mavericks at American Airlines Center and the Rangers at Globe Life Park.
There are multiple restaurants to explore if you're looking for local cuisine or something with unique twists.
2. The Domain
The Domain is a residential neighborhood in North Austin.
It's a great place if you need to escape the traffic of downtown Austin. You not only get a lovely and friendly environment but there are also plenty of activities and places to explore.
Getting around the neighborhood is easy, thanks to the daily shuttle service. There are well-paved sidewalks that make your movements a breeze.
Being self-contained, you can expect to pay a little more rent than the surrounding North Austin area.
A studio apartment will cost you $1,200, while a 2-bedroom apartment can range from $1,600-$1,800.
The Domain lifestyle is geared towards young adults who are adventurous and outgoing. There are plenty of bars, restaurants, grocery stores, fitness studios, parks, and boutiques.
You can conveniently walk to work or access an eatery within a few blocks.
There are also upcoming tech companies in The Domain, which means access to tech jobs. It's also one of the safest neighborhoods during the day or night.
3. The Woodlands
The Woodlands is a growing town with close to 100,000 residents. It's home to upscale shopping centers, restaurants, and retail stores. Being a suburb of Houston, you can expect wooded places and plenty of natural lush green everywhere.
The area has over 100 community parks, the top ones being Bear Brunch Park and Alden Woods Park. There are also fishing, hiking, biking, and boating places.
As a young adult looking to relocate for a job, The Woodlands has many businesses, including Woodforest National Bank and Chevron Phillips, that might have job opportunities.
It's also one of the places in Texas with the lowest crime rates.
The Woodlands has diverse entertainment options if you're looking for things to do. You can stop by the Cynthia Woods Mitchell Pavilion and enjoy live music and drinks. Market Street is also home to different entertainment places and restaurants.
4. North Loop
Considered one of the best neighborhoods in Austin, North Loop is on the north side of Hyde Park and the University of Texas.
Its vibrant nightlife, great coffeehouses, and multiple shopping centers make it an ideal home for young professionals.
Commuting in North Loop is a breeze as you can easily access an Uber or Lyft. Alternatively, you can catch the CapMetro bus if you want to move to other parts of Austin.
5. Hyde Park
Hyde Park is located in Central Austin and is one of the old suburbs in this area. 
You'll have an endless list of restaurants, coffee shops, and parks to explore. Although Hyde Park has a small-town vibe, it's a short drive away from the University of Texas and Downtown Austin.
6. Cedar Park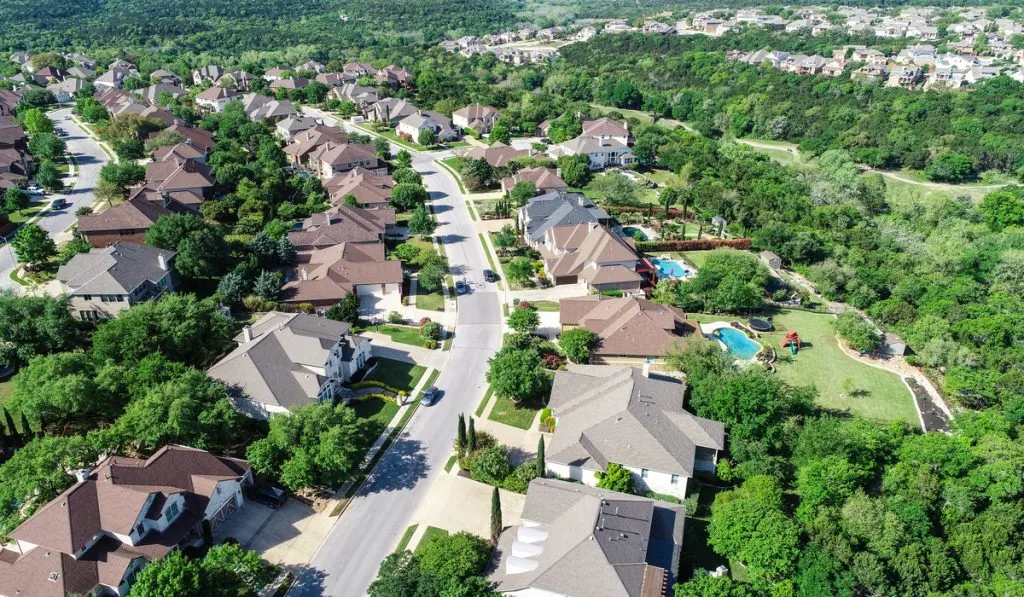 Cedar Park is an upcoming suburb in Austin with a population of 60,000. You can easily access the town and the surrounding areas from here.
There are plenty of attractions to explore, including the famous Lake Travis and the Balcones Canyonlands National Wildlife Refuge.
If you are a young foodie who loves sampling different dishes, Cedar Park has a range of cuisines ranging from Asian to Texan and lots of steakhouses. There are also coffee shops and pubs. You can also go shopping at Lakeline Mall.
Being in Austin, a tech city, you can find plenty of employers in the technology field like Corvalent and Firefly Aerospace. Other companies like Voltabox and BMC also hire people for different roles.
7. McAllen
McAllen is one of the most affordable cities to live in Texas. With a population of 800,000 residents, the city is also home to several amenities, including entertainment centers, coffee shops, restaurants, museums, theaters, malls, and more.
The city's reasonable cost of living and low crime rate make it perfect for young professionals starting their careers.
Convenient transportation is another thing you can expect when you move to McAllen. There are also plenty of activities like golfing, biking, hiking, and running that you can enjoy when living in this city.
8. Denton
Denton is a city within the Dallas-Fort Worth Metro. With a population of 139,869 residents, this city has a short commute to Fort Worth, Dallas, and other cities in the metro.
Denton is also home to college students and young professionals as the University of North Texas is located in this diverse city.
Enjoy a relaxed nightlife, eat at local restaurants, or go out shopping at The Square, which is downtown Denton.
A 2-bedroom apartment will, on average, cost $1,482 a month.
9. Terrell Hills
Terrell Hills has a population of less than 10,000 and is one of the growing suburbs in San Antonio. The neighborhood has many amenities like restaurants, coffee shops, bars, and shopping centers.
The quiet neighborhood has a low crime rate, allowing you to explore the suburb comfortably during the day or at night.
Commuting is also convenient as you can access San Antonio within 30 minutes and Austin in less than an hour.
10. Zilker
Zilker is in central Austin and one of the thriving neighborhoods with abundant greenery and unique nightlife.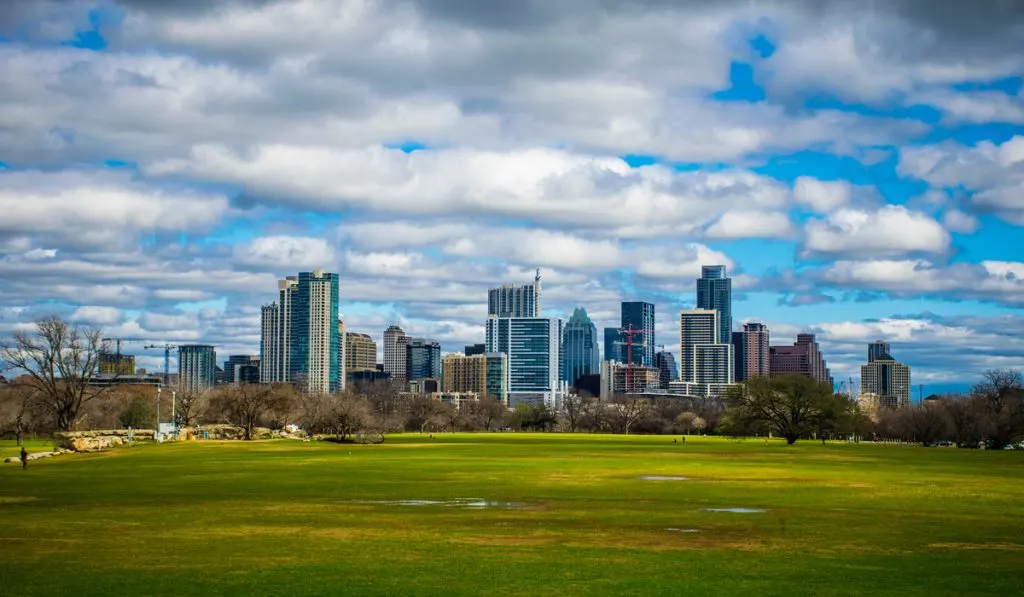 The neighborhood is a few minutes from downtown, so you can conveniently find places to shop and things to do in Zilker.
You can sample the array of restaurants, go out for a concert, or shop for groceries. There are abundant parks within walking distance.
Commuting through Zilker is easy as public bus routes are accessible.
Zilker is a friendly neighborhood, but you can expect to pay a little more in rent as home values have recently risen.
11. Amarillo
Amarillo was previously a ranching town before becoming a city.
With a population of 200,393, the city is famous for its motorsport expositions, rodeos, and equestrian competitions, making it a perfect city for any young person looking for a thrilling experience.
There are apartment complexes, townhouses, and condos. That gives you an option to choose where you prefer to live.
You can enjoy multiple outdoor recreation activities in Amarillo. Visit the Globe-News Center for the Performing Arts, play golf at one of the many courses, stroll in the John Stiff Memorial Park, or go camping at Palo Duro Canyon State Park.
Amarillo's low cost of living is another reason you should consider moving to this city. Rent costs about $800-$1,000 on average.
12. Spicewood
Spicewood is located close to Lake Travis. With about 10,000 residents, the community has a quiet feel to it.
13. Seabrook
Seabrook is 30 minutes north of Galveston and is southeast of Houston.
Being a vibrant coastal community, Seabrook has plenty of recreational activities like biking, hiking, boating, and fishing. There are also plenty of entertainment spots, shopping centers, and dining places.
A study by MoneyInc.com showed that Seabrook has a household income 55% more than the state average and a crime rate 61% lower than the state's average.
Seabrook is a fantastic place to live if you prefer a quiet neighborhood that's not overcrowded.
14. Cinco Ranch
Cinco Ranch is an excellent place to consider moving to if you're looking for a suburban feel that's also home to young professionals.
Niche, a review and ranking site, named Cinco Ranch as one of the top places to live in the Houston area.
With a population of 16,000 and a median household income of $141,752, this neighborhood has a vibrant nightlife, endless outdoor activities, excellent weather, and an affordable cost of living.
15. Garland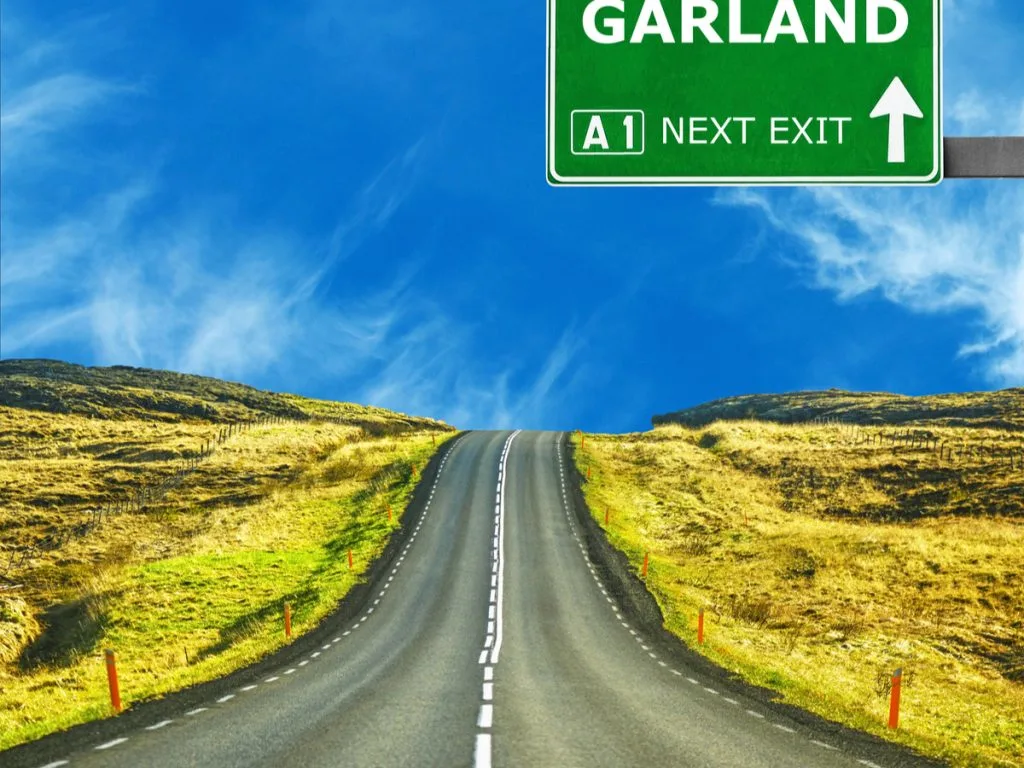 Garland is a peaceful and welcoming community found between Forth Worth and Dallas.
With more than forty parks, six recreation centers, and a low crime rate, it's no wonder the city is one of the best places to live in Texas.
The thriving downtown dining, vibrant arts scene, rich cultural history, and shopping district are other reasons you should consider moving to this growing city.
Garland was also ranked as a number three city for millennials in a 2019 study due to its affordable cost of living, low unemployment rate, and future job growth.
Final Thoughts
Texas is a diverse place for young adults looking to progress in their careers, live an active life, and make friends.
Resources