Gutters play a critical role in your home as they protect your home and your foundation from water damage. Nonetheless, gutters require regular cleaning and maintenance to ensure they are still functional, a task that can be tedious.
Fortunately, several rain gutter alternatives are reliable and help keep snow and rain out of your house.
Read on to find out more about some of the rain gutter alternatives available whether you're tired of maintaining your current gutters or you need to find something more appealing.
7 Rain Gutter Alternatives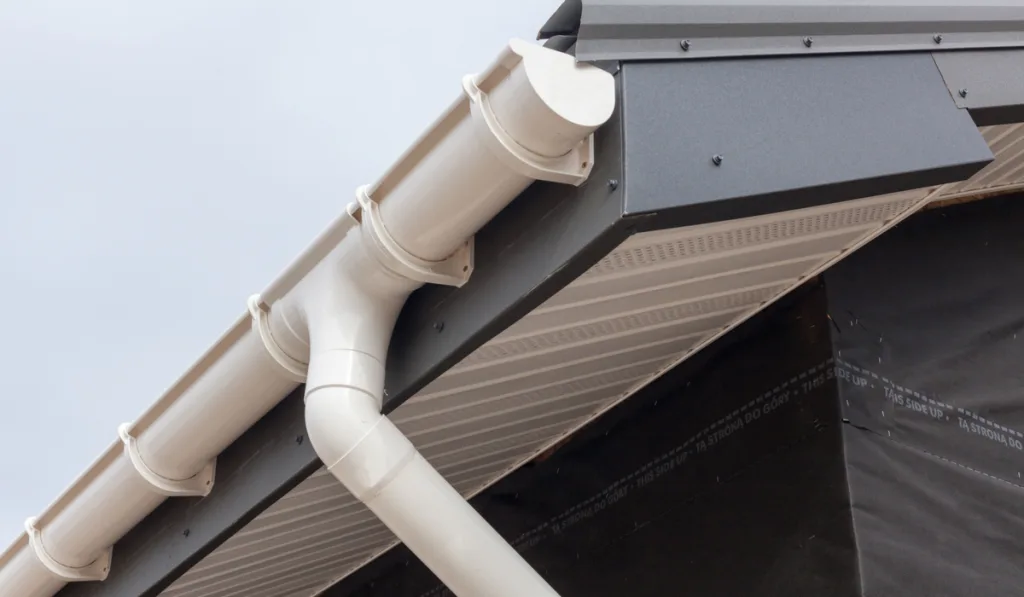 Some of the rain gutter alternatives to consider include:
1. Rain Dispersal Systems
Rain dispersal systems have adjustable louvers that disperse water from the roof. Apart from reducing the impact of pouring water on the ground, the systems also ensure that falling water doesn't destroy your plants or break foliage.
There's an option of a slatted rain dispersal system and a perforated plate dispersal system. The slated option has louvered slats that collect water that runs off the shingles and spread it over a wide area.
However, the perforated plate dispersal systems use a perforated plate to spread the water rather than slats. They also have multiple holes per square inch that disperse the water into a fine spray.
You also don't have to worry about clogs due to stuck leaves or debris. Installation is easy as all you need is to secure the panels to the roofline.
Nonetheless, you should note that the dispersal system's louvers can get blocked and fail to disperse water.
Another disadvantage of the rain dispersal system is that during winter, they can freeze and cause ice dams. You may need to come up with a solution to avoid having puddles in the yard
Pros
Designed to disperse any snow or rainwater from the roof and keep it away from the foundation
Simple to install and you can DIY
Available in several color options to match your outdoor theme
Do not trap twigs and leaves this reduces the need to regularly clean the gutters
Easy to maintain
Disperses water in plates or fine spray without damaging the foliage or plants around
Cons
Tends to freeze and cause ice dams during the cold season
Not ideal for roofs with valleys
It May require the installation of ground gutters if you don't have plants underneath
2. Rain Chains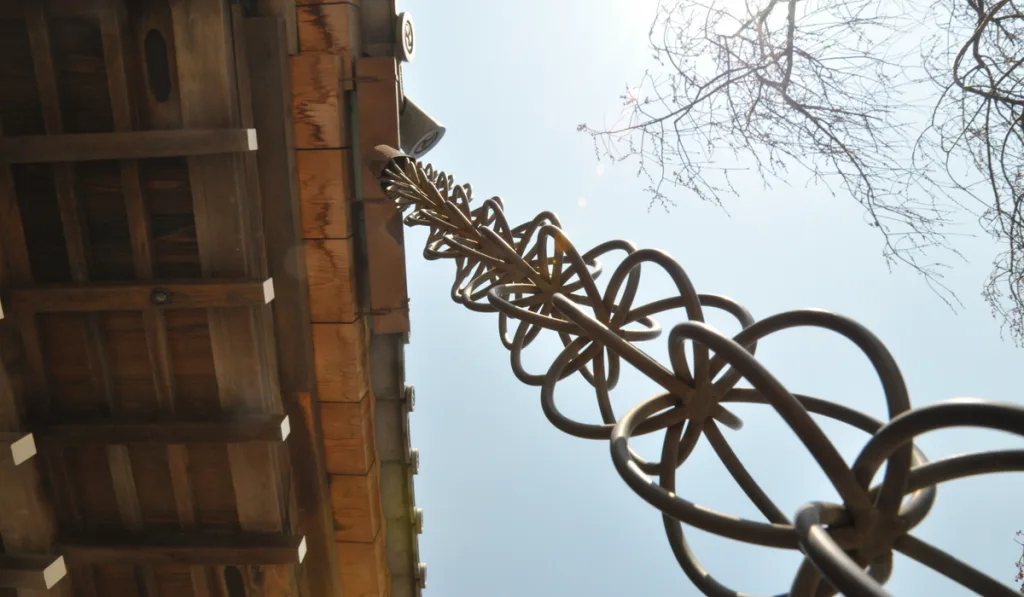 Rain chains are an excellent alternative for any homeowner looking for something aesthetically pleasing and unique.
The design uses cups, chains, or something else to ensure rain doesn't hit your roof but instead goes to the ground.
With the rain chains, water pours over them and creates a rippled effect that reduces the rain's impact. You don't have to worry about water splashes or erosion when the rainwater hits the ground.
Rain chains are also available in different materials. You can get copper, bronze, brass, or metallic options.
Monarch Rain Cascading Leaves Rain Chain
FUNCTIONAL DOWNSPOUT DESIGN: The rain chains for gutters have a standard length of 8.5 feet. Water cascades down each ring on the rain chains for outside creating a beautiful water feature. Installation for the alternative downspout for gutter requires no tools and installation guide is included.
STYLISH APPEARANCE: Contemporary style rain chain downspout adds a visually appealing accent to your gutters. As with all rain chains, some splashing can be expected. The copper rain chain develops a beautiful brownish patina on the surface over time.
VERSATILE: The rain chain copper is beautifully assembled with 46 links, each with 2 leaves. Each link of the rain chains for gutters measures 1.75 inches in diameter by 3.9 inches in height. Purchase an additional rainchain downspout substitution and extend to meet your desired length.
The rain chains are designed in a way that you can accessorize them. You can get decorative bowls or dishes to collect water. Alternatively, a rain barrel can be used to collect rainwater.
On the downside, rain chains cannot handle large volumes of water and wouldn't be ideal for someone who lives in a place with frequent storms or heavy rainfalls.
Pros
Available in attractive and unique designs
Slows down the water that falls from the rood, causing less damage and noise
You can place the chains in a sloped position to collect poured water into a barrel
Simple to install
Unlikely to clog as there's no space for leaves or debris to collect
Cons
Can be cumbersome to install and hang
Not ideal for places with heavy rain
Big roods may require plenty of rain chains which can be costly
Improper installation can lead to puddle creation
The added weight to the installation if the rain chain freezes
3. French Drain/Ground Gutter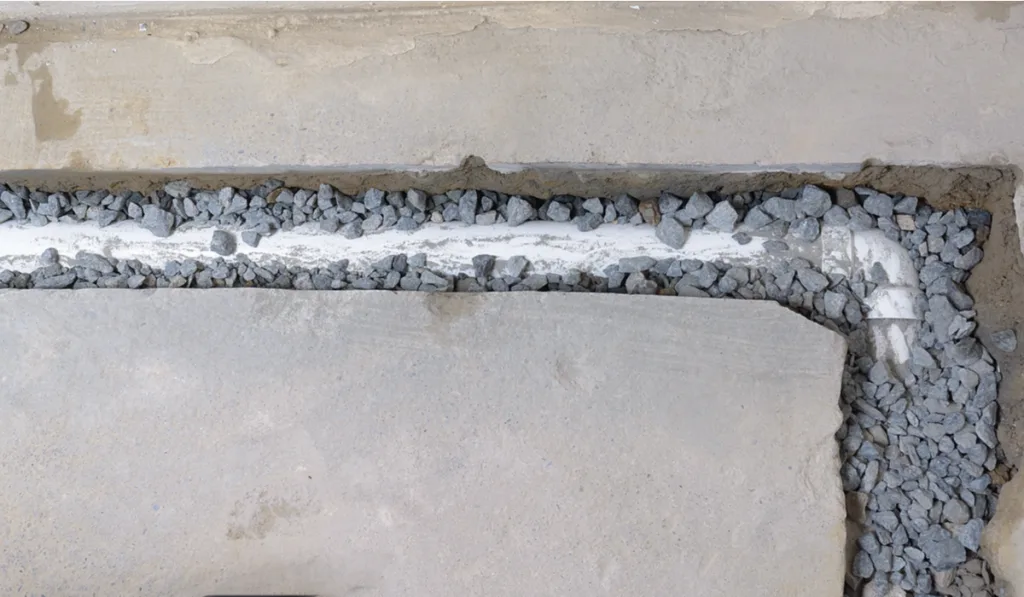 A French drain also referred to as a ground gutter is another excellent gutter alternative. The ground gutters reroute water that may collect around the foundation.
These types of gutters act as long drainage pipes that keep the water diverted from your yard.
Although ground gutters will keep your lawn dry, they don't protect your house from the pouring rain. You may need to think of another gutter alternative to use with the French drain.
Installing the French drain is hard work as you need to dig trenches that slope in the direction you want to reroute the water. These gutters require drainage pipes, which means the pipes should also have predrilled holes.
Pros
Durable when installed by an expert
Can be hidden and don't interfere with the appearance of your home
Requires little to no maintenance
Protects the siding and foundation
Cons
Can be tedious and costly to install ground gutters
Requires extra alternative to prevent water from pooling near the base of your home
4. Drip Edge
Drip edges are installed at the corner of your roof as a gutter alternative. The shaped metal panels or drip edge flashing act by pulling water away and reducing water damage under your siding or shingles.
Most building codes in the US require homeowners to install drip edges to reduce water damage.
Drip edges at the edge of the roof can create an extra barrier to falling water and prevent water from getting to your home's foundation.
Drip edges work by creating an overhang over the edge of your roof. There's also a flange below that blocks water from being spread by the wind.
These gutter alternatives are available in galvanized steel, copper, or aluminum.  You can also choose to install fiberglass or plastic drip edges on your windows and doors.
You also need to decide on the drip edge type. There are three options available, mainly Type D which has a T-shaped panel and a lower flange, Type C, which is a 90-degree angled L-shaped panel, or Type F which acts as a gutter apron with a long leading extended edge.
Pros
Affordable and simple to install
Protects the foundation and siding of your house
You can use it as an addition to a gutter alternative
Prevents ice dams formation
Adds extra stability to the shingles, preventing the need for frequent repairs
Seals gaps preventing bats from accessing the attic
Cons
Can be complicated to install on existing roofs
You need another way to prevent the pooling of water under the roof
Requires experts for installation
5. Drip Path
A drip path or dripline trench path works by collecting and absorbing rainwater, it's a paved pathway that's placed under the roof's edge in a way that when water falls from it, it's trapped on the path. The paths are constructed using bricks or blocks that sink into the soil.
Drip paths are an efficient alternative to gutters as they also protect the soil from erosion. The bricks/blocks are placed at an angle to deflect water from the house, while their hard surface stops water from sinking into the soil.
Pros
Protects from soil erosion by collecting and absorbing water
Collects the water from the roof and deflects it from the house foundation
Installed in the ground and reduces the need to make changes to the roof
Cons
Require an underground drainage system to function properly
Needs correct installation to deflect water away from the house
Any plants and bushes around the drip path can interfere with its functionality
6. Grading
A grading system consists of shaping and sloping the earth around the house to ensure the rainwater is redirected.  It's a DIY gutterless method for those looking for a gutter alternative on a low budget.
Grading when done properly can help guide water away from your house and protect your foundation. Note that the slope needs to be level enough and not have any holes where water can collect.
The only downside is that grading doesn't work well in areas that receive heavy rainfall.
Pros
Helps to divert rainwater away from the house, thus protecting your foundation
Affordable gutter alternative
Can be used in combination with other gutter alternatives
Cons
It May need readjustment as the slope changes
Installation takes a lot of work
Can lead to puddle formation if there are holes in the grading
7. Copper Gutters
Although copper gutters are still gutters and not an alternative, they are an attractive choice for a homeowner looking for something decorative.
They are made from copper, which is a non-corrosive metal and is more durable than aluminum gutters. Additionally, they don't need lots of maintenance as they don't contribute to clogs or blockage of the drainage.
The only downside is that they are more expensive than regular gutters.
Pros
Creates an attractive and dynamic finish
Crack-proof and rust proof
Durable and requires minimal maintenance
Cons
Expensive than regular gutters
Requires professional installation
Installation requires copper fittings which adds to the overall cost
Final Thoughts
Although traditional gutters are a common way of redirecting water from your house and foundation, they require constant maintenance throughout for them to remain functional. Fortunately, there are several gutter alternatives you can explore that are low-maintenance and aesthetically pleasing.  Our list above highlights some of the options to consider based on your budget and current needs.
Resources
https://www.plantedshack.com/gutter-alternatives/