Above-ground pools have increasingly become a popular option for homeowners looking for a cheaper way to set up a pool.  Apart from being simple to install, they are also easier to maintain compared to in-ground pools.
As a homeowner, finding the best above-ground pool can be daunting, given the different options available in the market.
In this detailed guide, we explore some types of above-ground pools. We also cover their pros and cons and discuss where you can get above-ground pools.
Understanding the Different Types of Above Ground Pools
It's essential to understand the various types of above-ground pool options for you to settle on the best. 
When comparing the different options available, you'll need to consider the frame.
Below are the options available.
Inflatable Pools
Inflatable pools are the most common above-ground pools. The pool has an inflatable ring that rises up to support a vinyl pool wall when you add water. 
These pools are affordable and a convenient way for any family to have fun in the backyard. Inflatable pools are also simple to install and an excellent choice for anyone on a budget or someone who doesn't want to alter their yard.
The tradeoff is that inflatable pools aren't as durable as resin or semi-inground pools. They also have limited options and you'll have to settle for an oval or round shape.  
Resin
Resin is a popular material used in the construction of things like airplane and furniture parts.
Most above-ground frames use resin because it is corrosion- and rust-resistant. Also, it's oxidative-resistant. 
Resin doesn't easily dent or warp. What's more, it stays cool despite the weather and can withstand any water or sunlight damage. 
There are two classes of resin above-ground pools, mainly resin and resin hybrid.
Resin hybrid pools use steel walls, but with a mixture of resin components and steel.
Resin pools use a steel wall, but every other component is made of resin. Most resin pools can withstand saltwater chlorinators, which makes them ideal for saltwater pools. 
However, resin frames are more expensive than steel frames, but their quality makes them worth the price.
Radiant
Semi-inground or radiant pools are durable and share certain similarities with hybrid pools, the only difference is that they have a fully insulated wall panel. 
Radiant pools are an excellent option for homeowners with hills or slopes in their yard.  These pools can be installed into a hill or slope partially to give an illusion of an inground pool. The frame's strong wall panels allow for ground forces, which means that the pool can be fully buried to resemble an inground pool. 
The best thing about radiant pools is that they are available in shapes other than oval or round. That allows them to conform to any yard shape.
Although radiant frames feature sturdy walls that are durable and come in different free-form designs, semi-inground pools are the most expensive. 
Furthermore, this type of pool will require professional installation due to its complex nature and components involved. 
Hybrid
Hybrid pools are common in most backyards. They offer the best combination of steel and resin, which makes them durable and sturdy.
These frames are rust and corrosion-resistant. They also don't chip or discolor easily. 
A hybrid pool will have a top ledge, an upright post to support the pool wall, and a bottom track to set in the pool wall. The pool wall can be made of steel or steel/resin combination, while the liner may be different depending on installation, pattern, and thickness.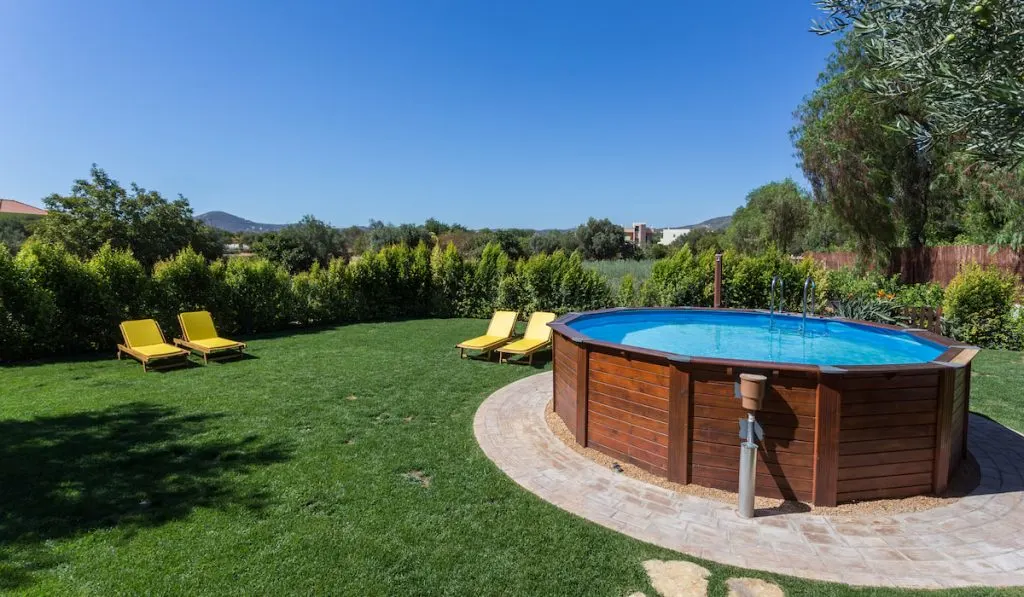 Hybrid pools can go up to 54 inches deep, with a variety of round and oval options.
These pools are quick to install and provide a better warranty. What's more, you don't need to disassemble and re-fill each season as hybrid pools are designed to be left up year-round. 
On the downside, hybrid pools require leveling and lots of groundwork. Some cities also need a permit to install this type of pool due to its permanent nature. 
Steel
Zinc, aluminum, or galvanized steel are common options for above-ground pools. Some homeowners will prefer steel frames as they are less expensive than resin.
Most above-ground pools have a top rail, pool posts, and footing. The frame components are stacked together to give structure to the pool liner or walls. After assembly, you can now begin filling. 
Above ground pools with steel frames will have a depth of 52 inches, with rectangular or round options. 
Steel frames are another popular frame option as they are lightweight, sturdy, and can be configured into different shapes. Additionally, these pools come in different size options and are simple to relocate. 
However, steel frames tend to dent easily and get hot when it's sunny. These pools may require an upgrade to a bigger filter and pump for easier maintenance and clean pool water. Steel frame pools need to be disassembled and stored during the cold months as they are not built to be left up year-round.
What Type of Above Ground Pool is Best?
Radiant pools have customizable options, provide a permanent solution, and resemble in-ground swimming pools. The only disadvantage is that they are expensive. 
Steel pools are sturdy, but they are also prone to rust and can be heavy. These pools also get hot in the sun.
Resin pools are light, don't rust easily, and can withstand external elements without getting a dent. However, they are costly.
Hybrid pools combine resin and steel to ensure that you have a durable pool that is also cool and light. These pools are less expensive than resin pools.
The best type of above-ground pool will depend on your yard space, your budget, maintenance, and the style/features you want. 
What Type Lasts the Longest?
Hybrid pools give you the durability of resin and the strength of steel. They can last 15-20 years if well maintained, making them a long-term above-ground pool option. 
Where Can You Get Above Ground Pools?
You can get above-ground pools from Amazon, Walmart, and Lowes.
There are other stockists like Target and brands like Intex and Bestway who sell above-ground pools and accessories online.
Final Thoughts
An above-ground pool is an excellent addition to your home and choosing this type of pool doesn't have to be overwhelming.
These pools require minimal maintenance and are easy to install. All you need to do is to pick the right pool size, settle on a contractor to install the pool and choose the type of above-ground pool that works best for you.
Resources