I'm sure you know what a window is, but you may not realize that many different types and styles of windows can be used in a home.
Whether you are looking to install new window frames for a new house or planning to renovate existing frames, there are endless options to choose from.
Each type of window has unique characteristics, but all provide a view, light, and design value to your home. 
I have prepared a list of some of the most popular windows for houses in this article.
But first, how do you choose a window?
Criteria for Choosing Windows
If you are installing windows afresh, what factors dictate the type of window to pick? Here are a few points to consider:
The size of the room
The location of the room (Do you need a corner window, maybe?)
The climate
The indoor and outdoor architectural structure
Signs That You Should Probably Replace Your Windows
If you want to replace your windows, how do you know it's time to do so?
You should probably replace your window(s) for the following reasons:
If the window doesn't open or close
If cracks appear on the window glass or casing
If there is moisture between the double glazing
Most windows often don't need a replacement for up to two decades.
14 Types of House Windows
1. Single-Hung Windows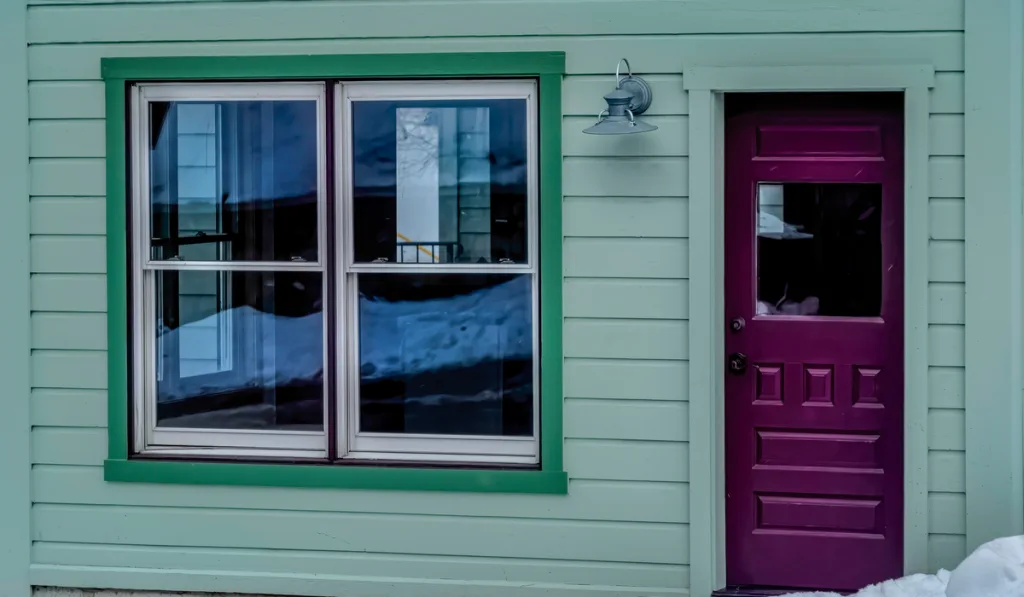 A single-hung window is designed with two panels or sashes, an upper and a lower. The upper sash stays stationary while the lower sash slides open vertically.
Depending on the vendor, single-hung windows are relatively affordable, ranging from approximately $170 to $360.
Pros
Affordable
Simple to install
Versatile with most home designs and styles
Perfect for homes with limited outside space
Energy-efficient
Cons
Limited ventilation
It requires cleaning from the outside
2. Double-Hung Windows
Like the single-hung window, a double-hung window has two window panels attached to one frame. 
The panels are arranged one above the other, both of which slide either up or down to open and close. They can also tilt out a bit for easy maintenance and cleaning.
Whether vinyl or wood, double-hung windows will cost you anything from $450 to $600, depending on the material used.
Depending on the design, some will need manual sliding, while others may be fitted with weighted cords that only require a slight pulling to open or close the panes.
Pros
Versatile with most home styles and designs
Affordable
Energy efficient
Easy maintenance
Works best for homes with narrow outer spaces
Cons
Limited ventilation
Not as airtight compared to other window types
3. Bay Windows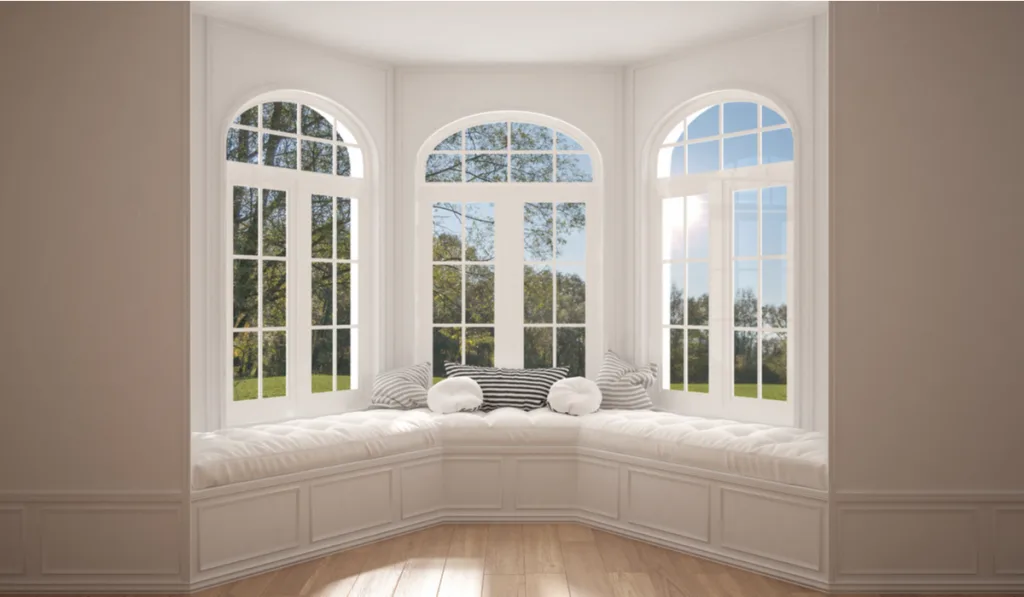 Bay windows are wall projections of windows that protrude to the outside, creating a form of window shelf that allows more windows and light in the room.
They are always a beautiful addition to living rooms and kitchens, giving an elegant look from the outside and from the interior.
Bay windows will always need an expert for proper installation.
Due to the skill and expertise required, the average installation cost of bay windows ranges from $1,150 to $3,550.
Pros
Lots of natural light
Visual appeal
Adds square footage to a home
Cons
Needs expert installation
May block exterior space
Expensive to install
4. Garden Windows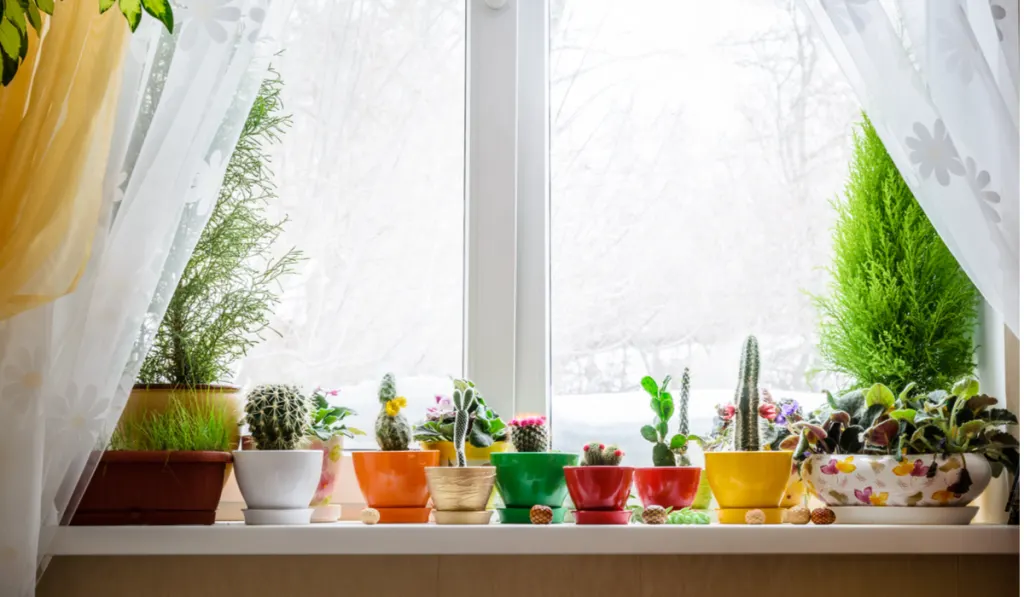 If you are into seeing more greenery in your space, then garden windows are the best for you. Like mini bay windows, garden windows act like little greenhouses with the functionalities of a window.
Their shelves can be used to hold indoor plants for a fresh, green display.
Garden windows need expert labor for installation. Depending on the type you choose, garden windows will cost anything from $1,000 to $4,000 for a complete installation.
Pros
Indoor greenhouse
Durable architecture
Visually appealing
Cons
5. Arched Windows
Arched windows are an intricate window design that encompasses a standard window fitted with an arched or rounded top to give more light.
On average, arched window designs often cost $325 to $500 for a full installation.
Pros
Visual appeal and an architectural interest
Versatile with many home designs
Easy maintenance
Cons
6. Pivoted Windows
For pivoted windows, the window shutters are attached to the frames by pivots that allow them to open and close.
Pivoted window shutters may swing vertically or horizontally to open and close depending on the pivots' positioning, which could be placed at the top and bottom or side frames.
Pros
Easy to clean
Great ventilation
Cons
Expensive
The open pane takes up space inside
7. Awning Windows
Their name is coined from the awning-like cover they provide while open, making them the ideal weather-resistant windows for places with lots of rain.
With the push of a handle or a latch, the awning window panels swing open to the outside. And thanks to the waterproof cover, they can remain open in case of rain.
For a complete installation of the awning windows, each piece will cost you anything from $350 to $900, depending on your vendor and the labor costs.
Pros
Airtight and secure
Affordable
Can remain open in case of rain
Easy cleaning and maintenance
Cons
Takes up space on the outside when open
Moving parts may break or wear out
More susceptible to damage if left open in an unfavorable environment
8. Sliding Windows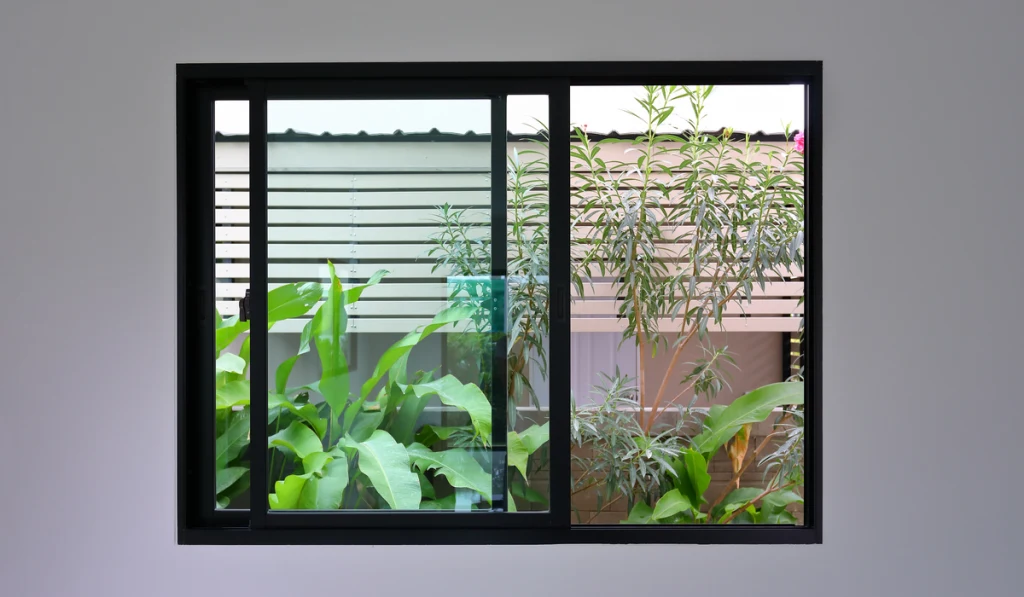 Sliding windows are designed to allow their shutter to move within the frame. Depending on the frame design and what you need, the window frames can be shifted horizontally or vertically.
This type of window is commonly installed in egress windows.
Pros
Affordable
Easy to install
Durable
Cons
Exterior surface cleaning is quite challenging
The sliding rail may get clogged over time
Has a center frame that obstructs the view
9. Egress Windows
Egress windows are typical for any home basement, and they add glamour and act as an alternative fire escape route in an emergency.
In some countries, egress windows are a requirement if you want a basement in your home.
From the excavation to the complete installation, egress windows can cost you $1,000 to $5,000, depending on the design and skills employed.
Pros
Act as emergency escape routes and access points
Provide ventilation
Visual appeal
Cost-effective
Cons
Needs detailed planning and installation
Poor installation may lead to moisture problems
10. Picture Windows
Picture windows are large fixed windows that cannot be opened. They do not have any middle breaks or visible frames to obstruct the view. 
So if you don't need ventilation, the best way to enjoy the scenery is by installing a large picture window.
However, picture windows are not energy sufficient compared to solid walls. During cold weather, the heat inside the room will escape faster, making the room colder, and heat will also be absorbed into the room more quickly during the warm months.
Depending on the window specifications, picture windows often cost between $150 and $850.
Pros
Affordable
Excellent view
Airtight 
Cons
Not energy efficient
No ventilation
Difficult to clean the outer surface
11. Casement Windows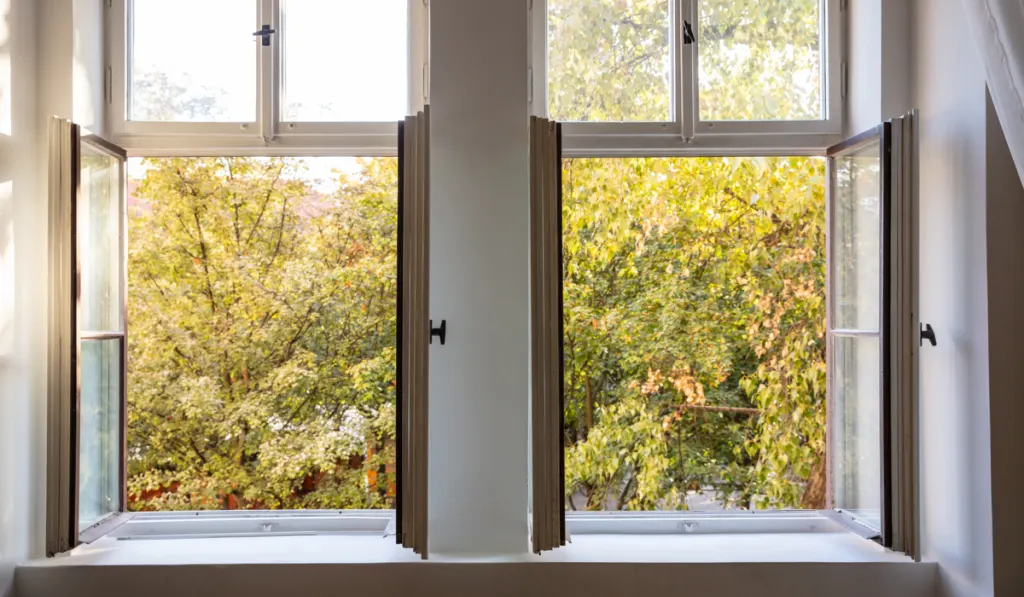 Casement windows also called crank windows, are designed with either single or multiple shutters attached to the frames by hinges that help them swing open and close like a door.
Some casement windows are fitted with a mesh screen to keep bugs out.
Casement windows are generally weather-tight and versatile for many home designs. Casement windows will cost you anything from $300 to $750.
Pros
Ideal for maximum air-flow
Easy to open and close
Cons
Prone to damage if left open in unfavorable conditions, like rain
Moving parts may wear or break
Not ideal for window air conditioning units
12. Glass Block Windows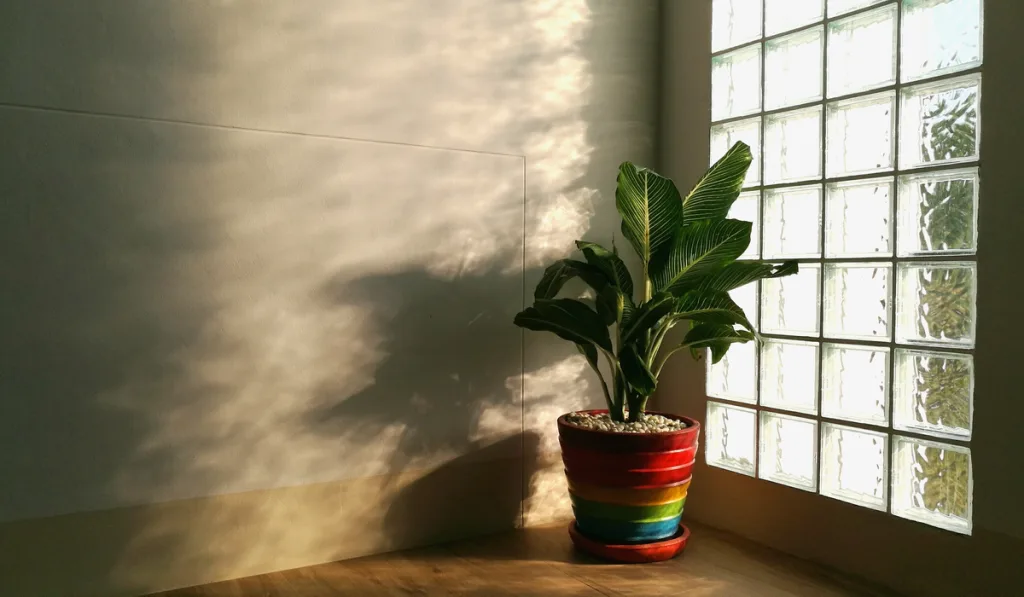 Glass block windows are often considered accents and are specially fitted to specific sections of a home to improve light flow and for privacy and glamour.
Most glass block window designs use frosted glass or glass adorned with a patterned design. They are best fitted in bathrooms and other private spaces.
Block window panes often have thick glass, which is hard to break, making them ideal for improved security. They also have durable sealing that helps keep out moisture.
Pros
Helps maintain privacy
Additional security
Cons
Distorts images and light
No ventilation
13. Round Windows
Round windows are visually appealing, providing a natural focal point. Round windows can also blend well with other window designs.
Although most round windows are fixed, some designers will offer you better designs that can open and shut.
Depending on the design you need, round windows will cost you anything from $250 to $750.
Pros
Allows in more natural light
Elegant design 
Cons
14. Hopper Windows
Hopper windows are single sash panes attached to the frame at the bottom with a hinge, allowing the pane to tilt and open from the top.
Hopper windows are ideal for compact spaces or rooms with limited wall space.
When closed, hopper windows seal nicely, providing maximum insulation. Depending on the design you go for, hopper windows will range between $265 and $750. 
Pros 
Energy efficient
Excellent insulation
Easy operability
Affordable
Low maintenance
Ideal for houses with narrow outer space
Cons
Limited privacy
Limited room space since it opens inwards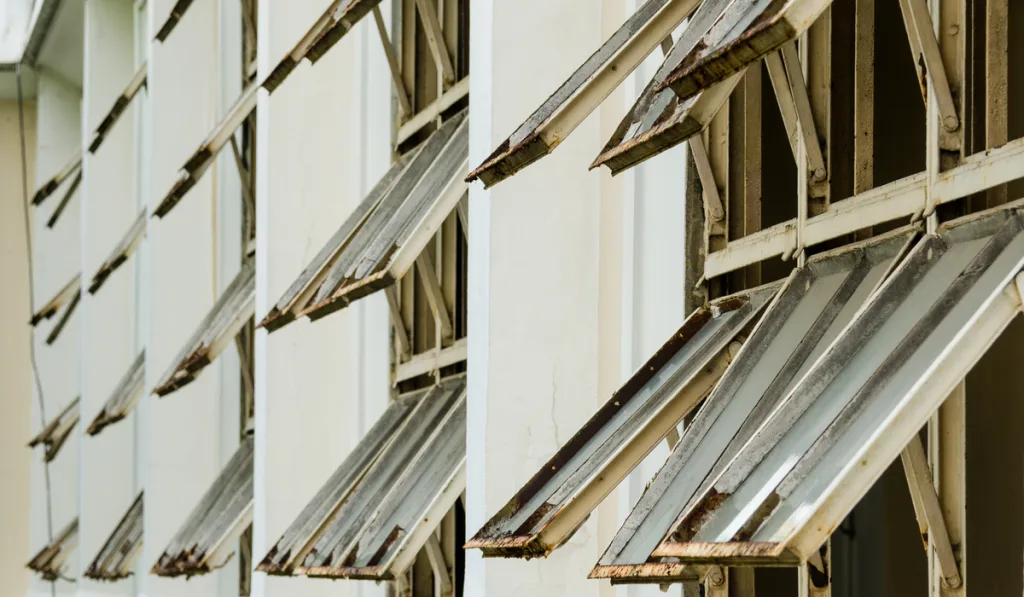 Other Types of House Windows
The above list is not an all-inclusive list of all the types of house windows.
Among other popular types of windows left out in this article are metal windows, corner windows, skylight windows, transom windows, ventilator windows, bow windows, louvered windows, lantern windows, and many more.
Conclusion
If you want a window for your house, the sky is the limit for the choices to pick from. You only need to know what you want and what works best for your space and proceed to choose what fits the profile. 
I hope this article helped guide you to the ideal window for your space.
Resources