Whether you are installing gutters for the first time or planning to renovate, there many options to choose from.
This article will help you get all the information you need on rain gutters and how to choose the best for your home. We will also cover the components of gutters and when gutters are necessary.
Are Gutters Always Necessary?
Gutters channel away rainwater from the house's foundation and yard, minimizing the possibility of a flooded basement, damaged siding, and eroded landscaping and garden beds.
However, gutters are not always necessary. Here are the situations where you will need gutters and those where you won't need gutters.
Gutters are necessary in the following cases:
You will need gutters if your roof has only a few inches of overhang. Runoff water will often gather around the foundation, damage garden beds around the house, and drench people entering and exiting the house. 
If your house is on lower ground than the rest of the property, gutters are necessary to direct water away from the home.
Gutters may not be necessary in the following cases:
If your house has a long overhang, say 12 inches or more, the rainwater will land further from the foundation.
If your home is entirely surrounded by concrete, say in the form of walkways, patios, or even driveways. The concrete is a barrier between the foundation and the runoff water, making gutters optional.
If your house is on higher ground than the rest of the homestead, gutters are optional because water won't flow toward the foundation.
If you live in an arid climate, gutters may not be necessary because you receive little to no rain.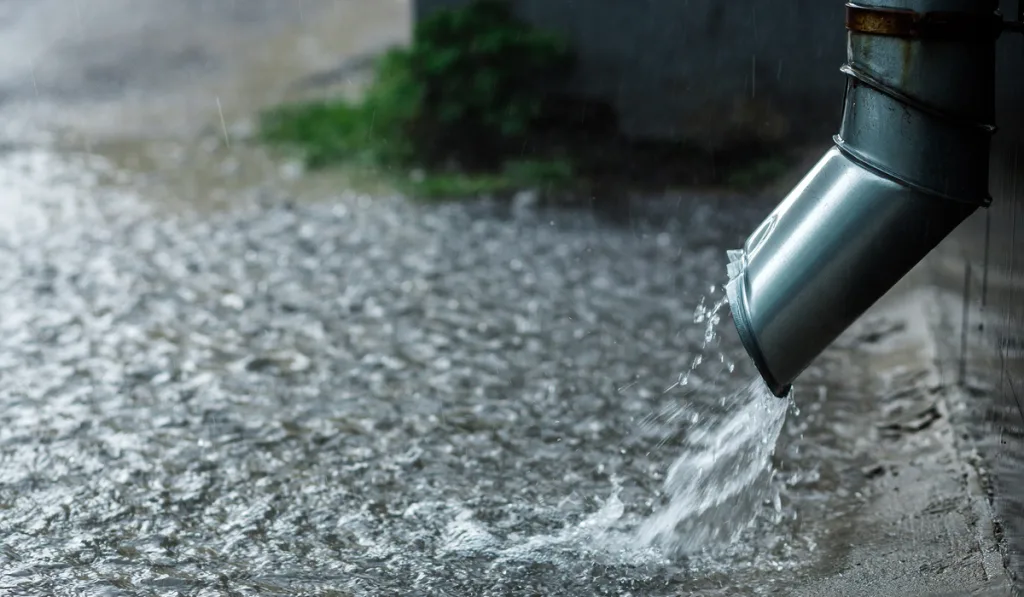 Components of Rain Gutters
Certain terms are specific to the parts of rain gutters and how they work. Let's learn them.
Gutter – These are the individual water collectors and conveyors, often sold in varying lengths. Each gutter piece is called a section.
Mitered Corner – This is a piece of gutter that fits into corners.
End cap – These pieces fit and seal off gutters at their ends.
Hangers – These are metal straps that prevent the gutter from sagging.
Ferrules – These are shafts that hold the screws used to fasten gutters to the house.
Downspout – This part is the vertical section that carries the water down to the ground.
Downspout elbow – This is an elbow-shaped piece at the bottom of the downspout that sends the water away from the house.
Pipe cleats – These secure the downspout to the wall of the house.
Gutter Designs
This section will focus on distinguishing gutters based on their designs, styles, and materials. Let's dive into the details.
By design, gutters are available in two types, seamed and seamless gutters.
Seamed/Sectional Gutters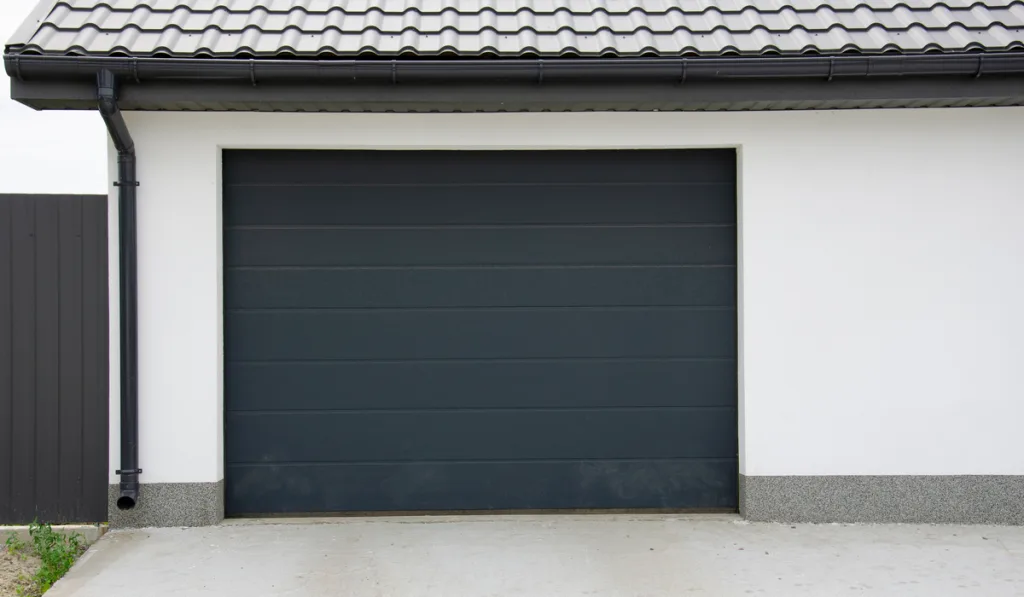 Seamed gutters are 10-foot-long gutters that connect through overlaps or joiner pieces to form a continuous gutter. The guttering attaches to the house with hangers.
Seamed gutters are perfect for DIY installation since they are not complicated and are easy to install. Depending on the size of a house, two people can install an entire system within a weekend.
Besides, seamed gutters and their components like downspouts are readily available in home improvement stores.
Seamed gutters are available in all your favorite materials: vinyl, galvanized steel, copper, and aluminum.
Pros
Affordable
Readily available
Easy to install and maintain
You can individually dismantle sections in case of a problem
Cons
Seam joints are prone to leaking
You cannot paint vinyl gutters
Limited options for color and style
Seamless Gutters
Unlike the seamed gutters, seamless gutters, also called custom-built fascia gutters, eliminate the problems associated with seams like trapped debris and leaks.
Seamless gutters need to be professionally installed.
The designer or the technical handyman employs a machine to create customized gutters, only making joints for the right angles and the spout.
The installation needs to be done by professionals, though some companies may agree to make the gutters for you and let you install them yourself.
However, depending on your home's size, the installation of seamless gutters can be pricey because of the customization and skillset needed.
Should a section of the gutter malfunction or break, you'll need to replace the entire gutter or cut out a section to replace it independently.
Pros
No length limit for gutters
Fewer seams mean fewer chances of leaking
More colors to choose from
Sleeker and more appealing look
Cons
Not a do-it-yourself project
Very expensive
Available in aluminum only
Difficult to replace portions
Gutter Styles
Half-Round Gutters
As the name suggests, half-round gutters are like a tube cut in half to facilitate water collection.
They are more rustic because they are mainly made of copper, which forms a patina with time, but other material options like galvanized steel, vinyl, and aluminum are available.
Half-round gutters are available in 5- and 6-inch sizes, depending on your needs.
Their installation process is quite a task with several steps which need to be followed. Brackets need to be installed around the roof as the primary support structures before adding the gutters and fastening them to the house.
Copper gutters are heavier than aluminum gutters and need additional support hardware to hold them in place safely.
Half-round gutters are prone to debris and leaf clogs without regular maintenance because of their frequent joint sections that allow and even trap debris.
To counter this, homeowners often install leaf guards that sieve out the leaves but allow in smaller debris that can easily be swept away by water.
Pros
Easy cleaning and maintenance
Less likely to clog if well-kept
Elegant rustic look
Less likely to corrode or rust
Cons
More prone to damage
Less effective during heavy rains
Very expensive to acquire and install
It gets heavy and loosens over time
Less rigid and durable
K-Style Gutters
As the name suggests, K-style gutters resemble a K when viewed from a cross-sectional angle. K-style guttering is popular because it looks like crown molding.
K-style gutters are also available in many colors, and most homeowners will choose the color to match the house's trim and shutters.
K-style gutters are also designed with a flat back so they can lie against the fascia board, supporting the gutter weight, especially during rain.
The folds and bends on the gutter structure also give the gutters a rigid structure, enabling them to withstand more weight than the half rounds. 
K-gutters carry more water than half-round gutters, although both have the standard 5- and 6-inch sizes. However, K-gutters are prone to collecting more debris and are harder to clean.
Pros
Easy to install
Inexpensive
Durable
Contemporary look
Handle more water
Cons
More prone to corrosion
Clogs faster
Box Style Gutters
Box-style gutters are typical for industrial or commercial buildings since they can handle large volumes of water.
Unlike other gutter options, they are not hung to the roof but tucked under the roof's shingles. That ensures that there are no water leaks along the roof edges.
So if you'd like box gutters, you'll have to redo part of the roof to install them to accommodate their tucking needs.
Box style gutters are mainly found in 7- and 8-inch sizes but are also available in bigger sizes, even 10 inches.
Gutter Materials
Aluminum Gutters
Aluminum gutters are the cheapest option in the market, which is why they are most popular.
They are also lightweight, often in three standard thicknesses: 0.025 inches, 0.027 inches, and 0.032 inches.
Aluminum gutters are also readily available in home improvement stores and can be painted to any desired color, making them the most sought-after option for DIY-ers.
However, although it's the least expensive, the thinnest gauge is more likely to bend, warp, or dent, making the thicker options better, especially if you get a lot of rainfall or snow.
Pros
Won't rust
Variety of colors to choose from
Can be painted
Weatherproof
Lightweight and easy to install
Durable
Cons
Zinc Gutters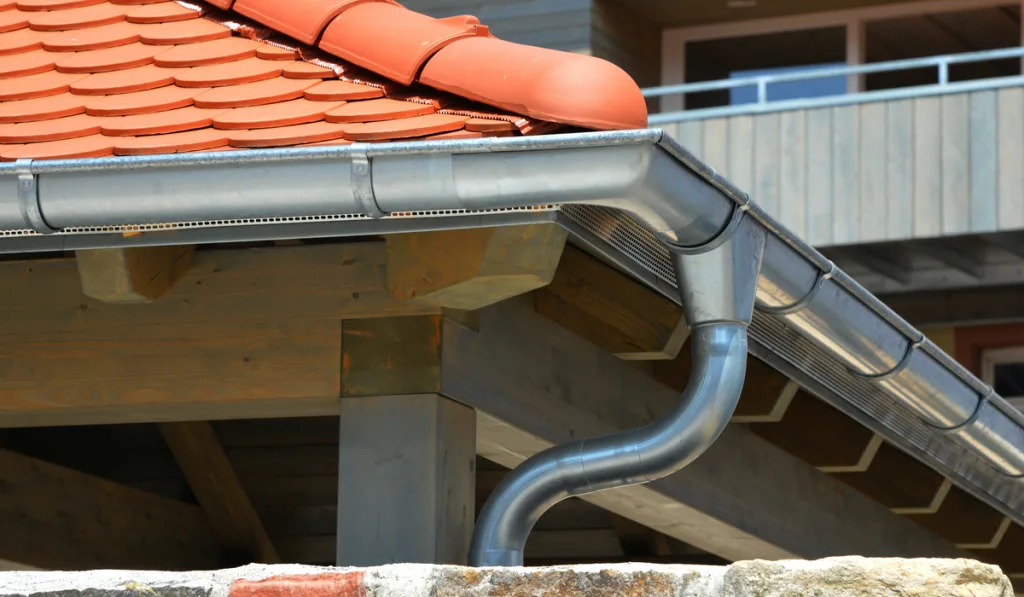 Although they are expensive, zinc gutters are highly durable, often lasting 50 years, and are resistant to weathering, corrosion, and warping.
Zinc gutters may lose their gray look and develop a patina that brings about a rustic look with time. They also need professional installation since the ends and joints must be welded together.
Pros
Durable
Resistant to warp, rust, or fade
Develops a rustic look with time
Cons
Not recommended for DIY installation
Expensive
Intolerant to salty air or acidic rain
Vinyl Gutters
Vinyl gutters are made of lightweight plastic material, making them among the least expensive choice. They are also easy to cut, can be painted, and easily snap together, making DIY installation effortless.
However, vinyl gutters are the least durable and unsuitable for extreme climates. They cannot hold heavy weights and are prone to fading when exposed to bright sunlight over a long time.
You can either do the installation yourself or let a professional do it.
Pros
Inexpensive
Easy maintenance
Can be painted
Lightweight
Resistant to corrosion and rust
Easy for DIY installation
Cons
Color fades with extended exposure to the sun
Prone to cracking if pressed or exposed to extreme freezing temperatures
Becomes brittle in extreme heat
Copper Gutters
Although they are very beautiful, copper gutters will eventually develop a green patina that contributes to the rustic look that the gutters assume over time.
Copper gutters are also very durable and versatile in extreme temperatures. However, they are costly and need professional installation.
Pros
Don't need painting
Durable
Resistant to rust or warping
Develops a rustic look with a greenish patina
Cons
Not suitable for DIY installation
Costly
Steel Gutters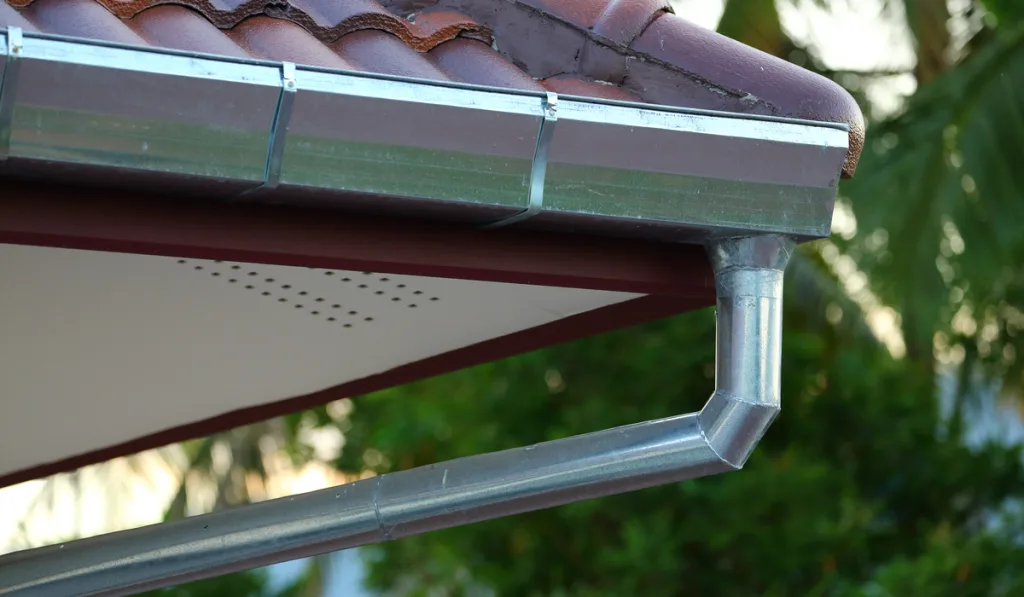 Steel gutters are heavy-duty gutters especially built for severe climates because they can quickly adapt to the expansion and contraction associated with weather changes.
Some steel gutters are galvanized to reduce the chances of rusting, but rust eventually takes over within close to 15 years, if not earlier.
However, stainless steel options won't rust but are pricey compared to galvanized steel. DIY installation is not also recommended for steel-gutter installation. A professional should handle it.
Pros
Weatherproof
Can be painted
Strong and durable
Cons
Heavy 
Prone to rust
Expensive 
Not suitable for DIY
Wooden Gutters
Although wooden gutters are arguably strong and aesthetically pleasing, their installation has more setbacks.
First, they tend to carry less water because of their rough inner surface, which creates more resistance to water flow.
Second, they demand more maintenance with regular sealant and oiling applications.
However, wood could be the best and most durable rain gutter if adequately cared for. If you prefer a wood gutter, consider fir or redwood, as they are the most durable.
Conclusion
Although all gutters work the same, you should evaluate what works best for your home by determining your home size and the relative roof-gutter requirements. Once you distinguish these, it will be easier to narrow down the gutter style and material that best suits your home.
Resources