In Southwest Florida on the Gulf of Mexico lies the city of Naples known for its white sandy beaches, spectacular sunsets and luxurious neighborhoods.
Naples, Florida is one of the most beloved places in the United States to visit and live.
With high-end shopping, sophisticated dining and top-rated golf courses, this culture-packed city is definitely a top destination.
Naples boasts such scenic views and is perfect for nature and outdoor lovers.
Lagoons, beaches, forests and swamps surround Naples.
It is a short drive away from Big Cypress National Preserve and Everglades National Park where you can spend the day outdoors boating and kayaking.
Naples has a lot of wonderful green spaces and parks plus various recreational activities you can do.
From golfing, fishing, dolphin-spotting, to boating and other water sports, there are endless things to do in this city.
This upscale and stylish seaside town has so many attractions.
Naples also offers cultural entertainment and excellent arts with its fine art galleries.
Do yoga and join a wellness retreat at numerous centers in town and participate in the many festivals and community concerts happening in parks and pavilions throughout the year.
This affluent city is composed of several beautiful neighborhoods that have upscale housing and waterfront homes.
Each neighborhood is unique and most have active associations that generate a sense of community.
With warm temperatures year-round, you can spend the day in the water and enjoy what the city has to offer.
Here are the 9 best places to live in Naples, Florida.
1. Moorings
Located in the middle of Naples, much of the area of Moorings is waterfront.
Its location has easy access to the Gulf of Mexico, making Moorings a perfect place to live in for ocean and nature lovers.
It is an open area of about 4,000 residential homes and condominiums that is surrounded by several waterways. 
A mix of new and old luxurious single family homes and a variety of high and low-rise condominiums make up this neighborhood.
Many of the houses have private waterfront access, boat docks and residential parking.
Enjoy scenic views with its quiet street and tropical trees and get the best of this convenient coastal living.
Everythings is nearby and is close to popular landmarks and attractions.
It is near the best dining, shopping and entertainment options in the city of Naples.
2. Coquina Sands
Coquina Sands is a non-gated community which is situated between Moorings and Old Naples.
This beachside neighborhood is located near the business district of Naples.
Coquina Sands is a perfect area to live for avid beach goers and boaters.
The subdivisions in the area offer many single family houses, bay front and beach front condominiums and waterfront homes with direct ocean access.
Spend your day with your family and friends at the Lowdermilk Park Beach, 1,000 feet of pristine sugary white sand beachfront with a playground and a pond.
Coquina Sands boasts a family friendly beach and access to superior school districts.
Coquina Sands has a laid back, friendly and sophisticated community and is convenient to great dining and shopping options.
Attractions such as Naples Shopping Plaza and Mooring Plaza are both a walkable proximity to all its residents.
3. Old Naples
This charming and historic neighborhood has gorgeous banyan trees and coconut palms surrounding the area.
Old Naples is a perfect blend of beach and the city.
Real estate pricing can be pretty expensive in this exclusive area. Old Naples is an old section of town with houses in the neighborhood dating back to the 20th century.
This neighborhood has a mix of old, quaint beach cottages, elegant mansions and waterfront condominiums.
Beachside residences in Old Naples are limited to single family homes due to this neighborhood's strict zoning rules.
Many popular landmarks and attractions surround this area.
During the high season, expect various activities such as art shows, outdoor concerts and farmer's markets happening in this neighborhood.
Go shopping at the numerous world-class boutiques at Fifth Avenue and Third Street.
Go sightseeing at the Cambier Park, a community park in the middle of Old Naples that has a community building, playgrounds and an auditorium.
Check out Palm Cottage, a historic home built in 1895 that is listed in the National Register of Historic Places, one of Old Naples' original landmarks.
Visit its several art galleries and theatres and relax on the city parks and benches where you can watch the sunset.
Old Naples is a wonderful blend of old and new with its rich history and lively downtown.
4. Park Shore
Park Shore is situated along Venetian Bay that has many deep water canals giving residents access to boating and fishing.
With luxurious waterfront properties with boat access, homes in Park Shore start in the millions.
This exclusive neighborhood has fine dining, live music and world-class boutiques.
Park Shore consists of inland and waterfront single family lots and high-rise condominiums.
Streets are lined with beautiful trees and Park Shore is popular for their excellent schools.
Park Shore is within reach of attractions such as The Village on Venetian Bay which offers luxurious shopping and dining options on the waterfront.
5. Port Royal
Port Royal is one of the most treasured neighborhoods in Florida and is nestled along the spectacular waters of the Gulf of Mexico.
It is one of the most exclusive and secluded locations and is the most sought after prime real estate waterfront neighborhood in Naples.
The world-class properties at this luxurious home community have estate-sized residences and most residences have private beach access with stunning water views from the comforts of home.
A truly prestigious living, nearly all homes have a boat dock and water access.
Homes have a wide range of prices, sizes and luxurious styles in Mediterrenean, Spanish and modern architecture.
Enjoy serene walks on the beach at this exclusive single-family community.
At the south end of the community, Gordon's Pass provides an entrance to the Gulf of Mexico to explore the expansive waterways of this affluent neighborhood.
6. Royal Harbor
Located on the east side of Naples Bay, Royal Harbor is an upscale waterfront community of 400 waterfront single family homes and a few condominiums.
It has the most affordable single family houses in the city of Naples that have direct water access.
Its canals have access to Naples Bay and Gordon Pass to the Gulf of Mexico.
Its superior location is just a few minutes ride to downtown, 5th Avenue and the beaches of Naples.
With well-manicured landscapes and interconnected channels, this neighborhood has a variety of home style, size and architecture.
Royal Harbor is one of the original boating communities of Naples and has experienced a great transformation over the last 15 years.
Old houses are being transformed and plenty of new construction has been done in the past years.
7. Aqualane Shores
Aqualane Shores was one of the first areas in Naples to be developed.
Situated in the southern tip of Naples, and in between Port Royal and Old Naples, it is the best boating community in Naples.
Aqualane Shores has some of the finest fishing grounds in all of Naples.
The luxury residences and waterfront properties of Aqualane Shore provide a Gulf and Bay access to your own dock due to its deep-water basins.
Most of the homes were torn down or completely reconstructed to give way to its beautiful and luxurious waterfront estate homes.
The quiet, tree-lined community has miles of parkland paths for you to enjoy running and biking.
Aqualane Shores is accessible to the best restaurants and shopping options and is walking distance to the historic 3rd Street South Shopping District, white beaches, sailing and yacht clubs and many more amenities.
8. Pelican Bay
A premier luxury coastal community, Pelican Bay has gated and non-gated subdivisions all around the area.
There are single-family homes, villas, coach homes, and high-rise and low-rise condos with views of the mangrove forest, the beach, and the ocean.
Pelican Bay offers world-class amenities like three beachfront restaurants, tennis facilities, golf course, boardwalks, a fitness and wellness center, and access to private beaches.
There is a tram system you can take to easily access all of these amenities and venues throughout the area.
9. Grey Oaks
Located in the heart of Naples, Grey Oaks is a luxurious gated, master-planned community.
It has three award winning golf courses, world class amenities, tennis courts, pools, wellness center, and two clubhouses that hosts community events.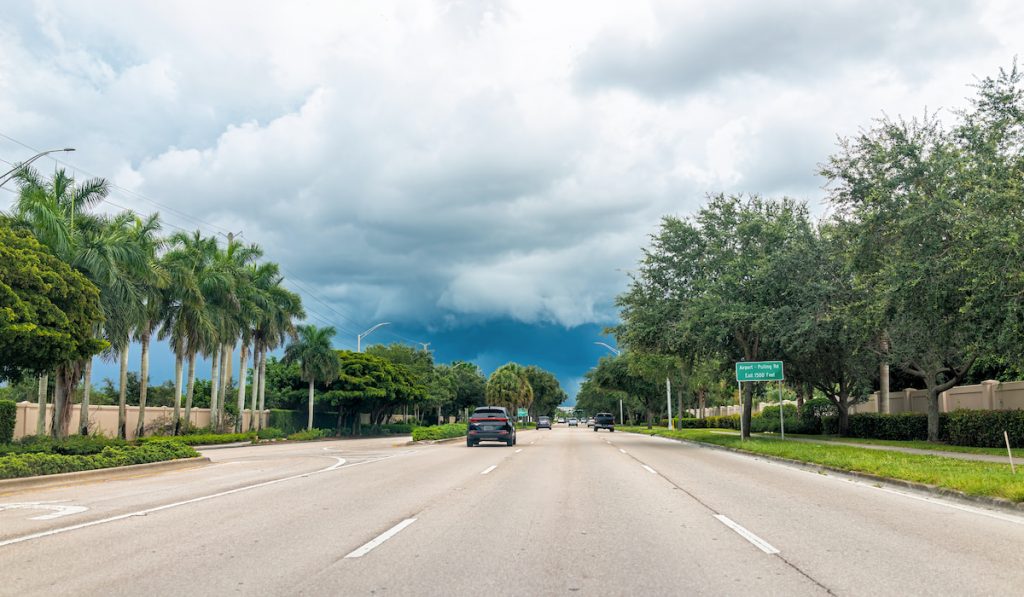 Grey Oaks is just minutes away from downtown Naples.
This prestigious neighborhood is surrounded by nature with tropical flowers, beautiful trees, and freshwater lakes.
Grey Oaks is a secluded neighborhood that has coach-home style condos, mid-rise condos, family villa homes, and estate homes.
Grey Oaks gives you privacy and true resort style living.
Resources: