When it comes to the laundry room, there are many flooring options to choose from. Choosing the type of flooring comes down to three main factors: your budget, time, and desired result.
What to Look for in Laundry Room Flooring
No two laundry rooms are alike. When thinking about the kinds of flooring available for use in this space, you'll want to consider a few important details like: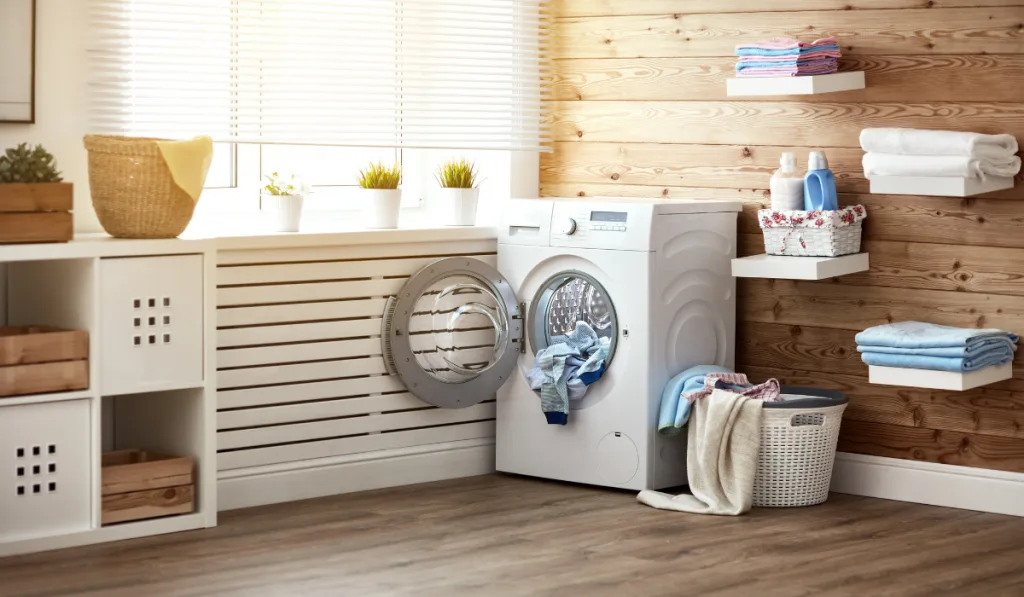 Moisture Resistance
Le leaks shouldn't be a concern with well-maintained, newer laundry machines, but they could happen. More than that, though, you need to consider moisture and humidity. This can become an additional concern if your laundry room is also home to your water heater.
While your washer should keep moisture well contained, dryers can release moisture into the room as they cycle.
Whatever flooring option you choose, you'll want to make sure that you select an option that makes sense for both the day-to-day moisture and humidity in the room as well as resilience to the occasional unforeseen leak.
Durability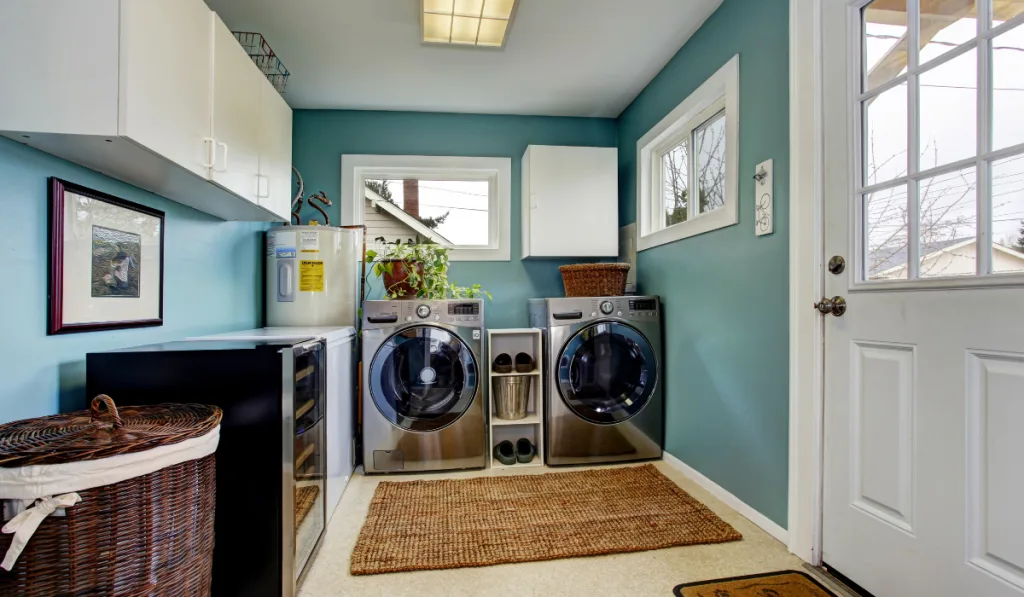 In my home, the laundry room is pretty much a single task room. It's just for laundry, nothing else. I have friends, however, whose laundry rooms do double duty.
If your laundry room does double duty as a craft room, pantry, or mud room, you'll want to ensure your flooring choice is durable enough to support the traffic.
Think about the average number of times you or your family use the room on a day-to-day basis. The more you use the room, the more it makes sense to choose both a durable floor as well as an attractive one.
Chemical Exposure
In addition to laundry detergent and fabric softeners, the laundry room can also routinely be home to more caustic or damaging agents like bleach and clothing dye. Some laundry rooms also house extra cleaning supplies.
When choosing flooring, keep in mind how that floor might react to these items being accidentally spilled.
Laundry Room Flooring Options
| Flooring Material | Recommended | Price/Sq. foot |
| --- | --- | --- |
| Concrete | Yes | $0.00 + |
| Tile | Yes | $1.00 + |
| Sheet Vinyl | Yes | $0.72 + |
| Peel & Stick Vinyl | Yes | $1.00 + |
| Vinyl Planks | Yes | $2.50 + |
| Rubber | Yes | $5.50 + |
| Foam Floor Tiles | No | $6.00 + |
| Laminate | Yes | $1.00 + |
| Engineered Wood | No | $4.00 + |
| Solid Wood | No | $4.50 + |
| Composite / Trex | Yes | $6.00 + |
Concrete
Price: $0/sq. foot and up
Concrete can be an easy and stylish option for your laundry room, depending on the construction of your home.
If your laundry room has an existing solid concrete foundation, simply pulling up any existing flooring can be an option.
You can have the concrete floor professionally leveled and polished to increase the design aspect. Staining, etching, and painting are also all options when you have a concrete floor.
PROS
CONS
Highly Durable
Possibly very budget friendly
Moisture Resistant
Cold
Not Moisture Proof (you'll want to seal it at a minimum)
Tile
Price: $1/sq. foot and up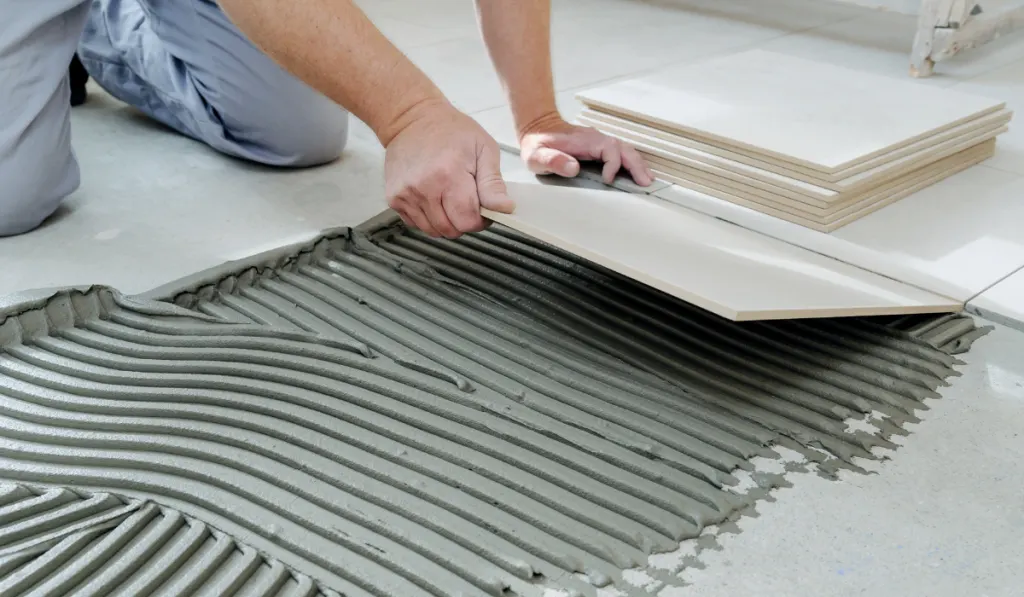 A tile floor in a laundry room offers the convenience of a durable floor with the added benefit of moisture resistance. As an added benefit, there are endless options available to fit any design idea.
If you can dream it, you can probably do it with a tile floor. From a material standpoint, you'll have many great options, including ceramic, porcelain, slate, marble, and more.
Because there are so many options and sizes available, your price per square foot could vary drastically, but ceramic options start as low as $1 per square foot.
PROS
CONS
Highly Durable
Very budget friendly
Moisture Resistant
Cold
Needs a level base
Vinyl
Vinyl floors have become very popular over the years due to their price and durability. Typically waterproof, this material is an excellent option for your laundry room floor. There are even a few notable options depending on your budget and experience.
Sheet Vinyl
Price: $0.72/sq. foot and up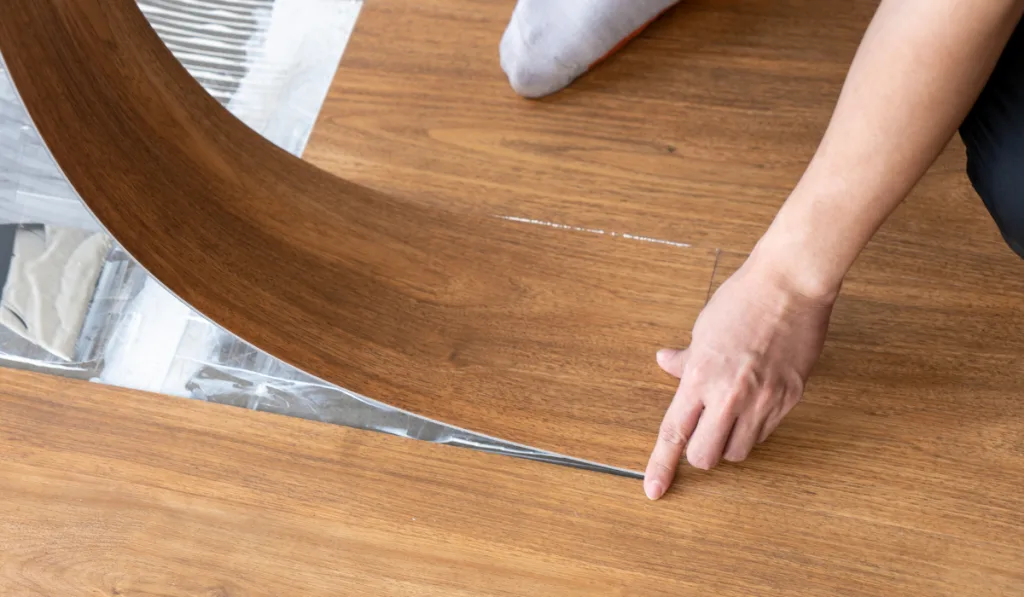 Sheet vinyl is commonly seen in rentals because it allows for seamless installation in most smaller rooms and is very economical. Fewer (no) seams mean fewer places for moisture to hide if there is ever an issue.
Installation can be tricky, though, and is probably best suited to a professional. Large vinyl rolls can be hard to manage for a DIYer (but not impossible).
Peel & Stick Vinyl
Price: $1.00/sq. foot and up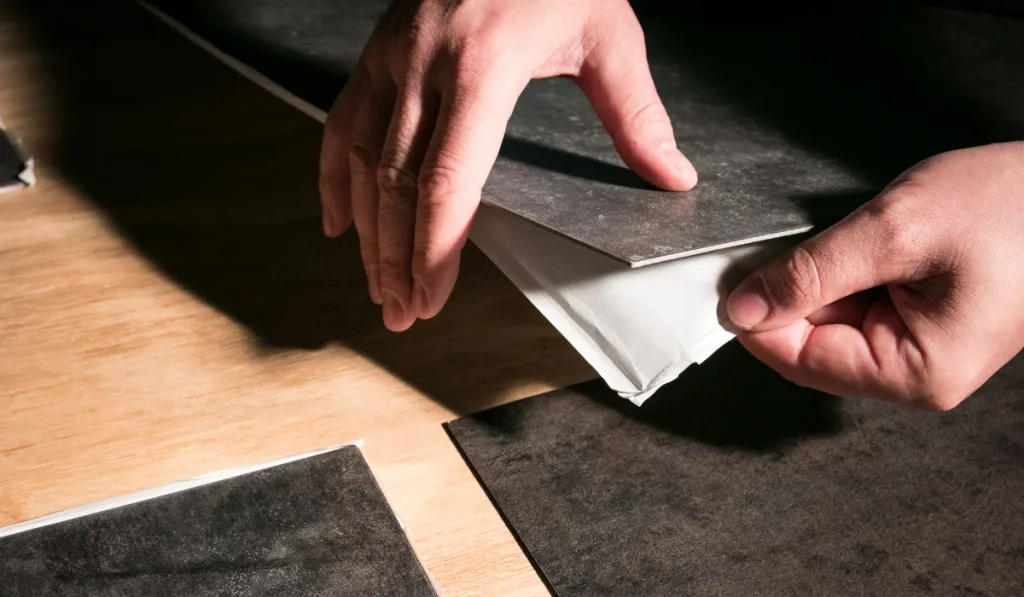 Peel-and-stick vinyl is available in both tiles and planks. These options have become extremely popular for DIYers looking to quickly transform a space on a limited budget.
As the name implies, this type of flooring can be adhered to almost any clean, dry surface using the built-in adhesive. You can even add a thin line of grout in some cases to make the tiles look more "real."
The great thing about peel-and-stick tile is that you can easily change the look of the floor anytime you like by adding a new layer on top.
Peel-and-stick vinyl flooring comes in various colors, prints, and even faux wood options. You can also mix and match tiles to create a checkered look if that is what you're going for.
Vinyl Planks
Price: $2.50/sq. foot and up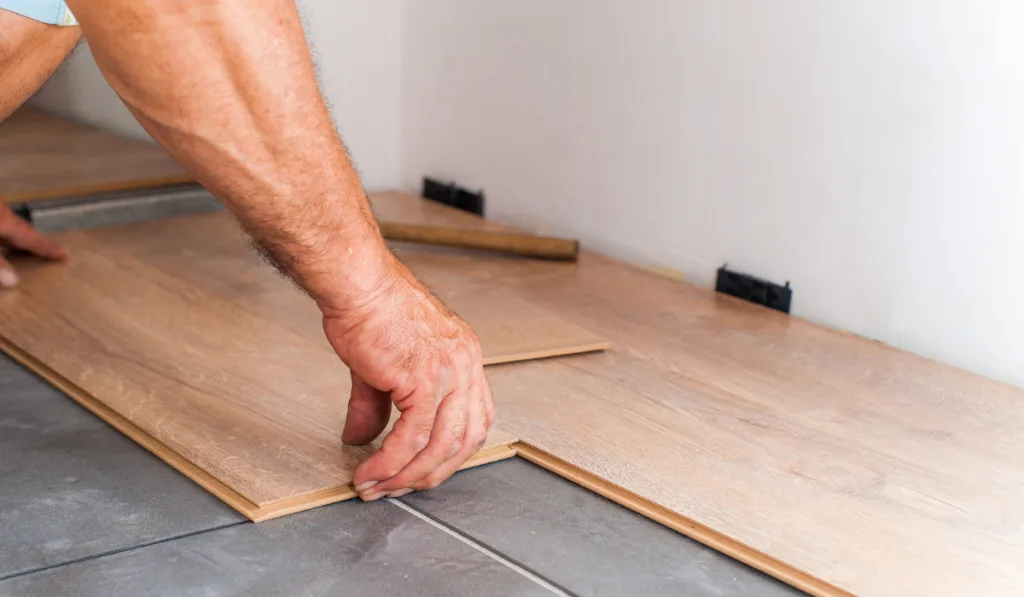 If you're looking to use vinyl flooring but want something that looks more like natural wood or laminate, vinyl plank flooring may be something for you to consider.
Remember that this is not the "peel-and-stick" variety of planks we covered above but rather "click-and-lock" flooring that simulates traditional plank flooring.
It's a great waterproof, durable option. Look for options with pre-attached underlayment for ease of installation.
Rubber
Price: $5.50/sq. foot and up
American Floor Mats Fit-Lock
Fit-Lock rubber tiles absorb shock and impact from heavy weights and equipment thus protecting both the machinery and the floor from damage.
These tiles are 3/8" thick, 2′ x 2′, 4 Square Feet each.
Fit-Lock's seamless interlocking system makes these rubber tiles easy to install and does not require adhesive.
Center, Border and Corner tiles allow for a finished look whether covering a specific area within a room or laying the tiles wall-to-wall.
This set contains 4 Corner Tiles, 6 Border Tiles, 2 Center tiles
Growing up with horses, rubber floor tiles were always used as a soft, durable, and waterproof alternative to concrete. We'd use rubber mats to line horse stalls and bathing areas.
These days, rubber is becoming popular in high-traffic areas like gyms.
Rubber flooring comes in a variety of different options ranging from 24″ interlocking tiles to 4′ x 6′ mats. Additionally, thickness and construction may vary and becomes important depending on your use.
Thick mats are the most durable but also heavy and very expensive. On the other hand, if you choose an option that is too thin, it will be more prone to curling and shifting.
Rubber flooring can be a great option to apply over concrete floors that you know will get wet. 100% rubber options can be much more pricy than other acceptable indoor laundry room options.
Foam Floor Tiles
Price: $6.00/sq. ft and up
ForestFloor 3/8 Inch Thick Printed Foam Tiles
Stylized Flooring Solution – Forest Floor Premium Wood Grain Foam Floor Tiles come in interlocking EVA foam tiles, available in 24″ x 24″ x 3/8″ thickness, with a wood grain appearance for a stylized look in any room.
Versatile Uses – Elevate the decor of any room in the house, or use in the basement, garage, playroom, classroom, or at tradeshows. Forest Floor Printed Foam Mats provide a beautiful and versatile flooring solution.
Cushioned Support – Reduce strain on your feet, knees, and back with these anti-fatigue mats. Use over concrete, hardwood, or other hard surfaces that require more support for your joints. Ideal for use in the office, kitchen, garage, or any room in the house.
Most commonly seen in classrooms and playrooms, foam flooring manufacturers have started incorporating wood grain-looking tile options that, upon first glance, might look like a quick and easy flooring option.
We installed wood grain ones (similar to those shown above) in the basement that occasionally floods in very high rain.
These floors are quick and easy to lay down and just as quick to pick up when needed. That being said, they are water resistant and not waterproof. If you do wind up with a leak (or flooding in our case), you'll need to completely remove the tiles to dry.
Over time, whether due to uneven flooring or having to install/reinstall, we found that the floor tiles wouldn't click together as easily.
Due to pricing and personal experience, I wouldn't go with this option as a long-term solution, but in a pinch, they could work fine and then be repurposed once a more permanent option was installed.
PROS
CONS
Very easy to install
Moisture Resistant
Covers uneven floors easily
High priced
Thickness can make things look "off."
Not a long-term solution
Laminate
Price: $1.00/sq. foot and up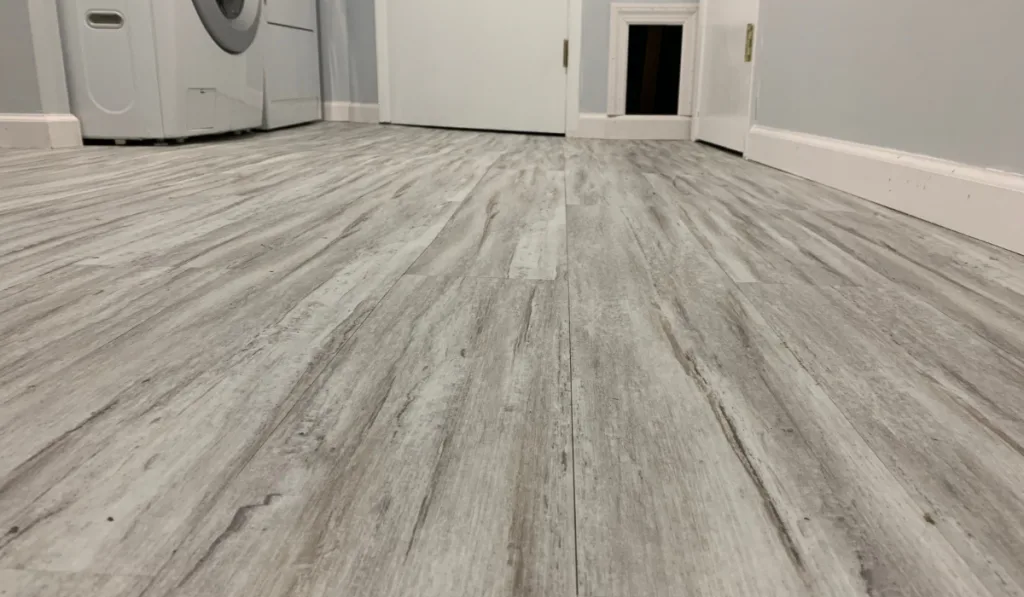 Laminate flooring is an attractive option for living areas and bedrooms. However, the fiberboard core is something to consider when deciding whether to lay laminate in your laundry room.
This comes down to risk tolerance. Laminate is more likely to need to be replaced entirely if there is a leak in your laundry room. With new machines and newer connections, this may not be a concern.
Laminate is an inexpensive, easy-to-install option for the DIY homeowner. It's an excellent option for the laundry room if you aren't worried about flooding or leaks.
Engineered Wood
Price: $4.00/sq. foot and up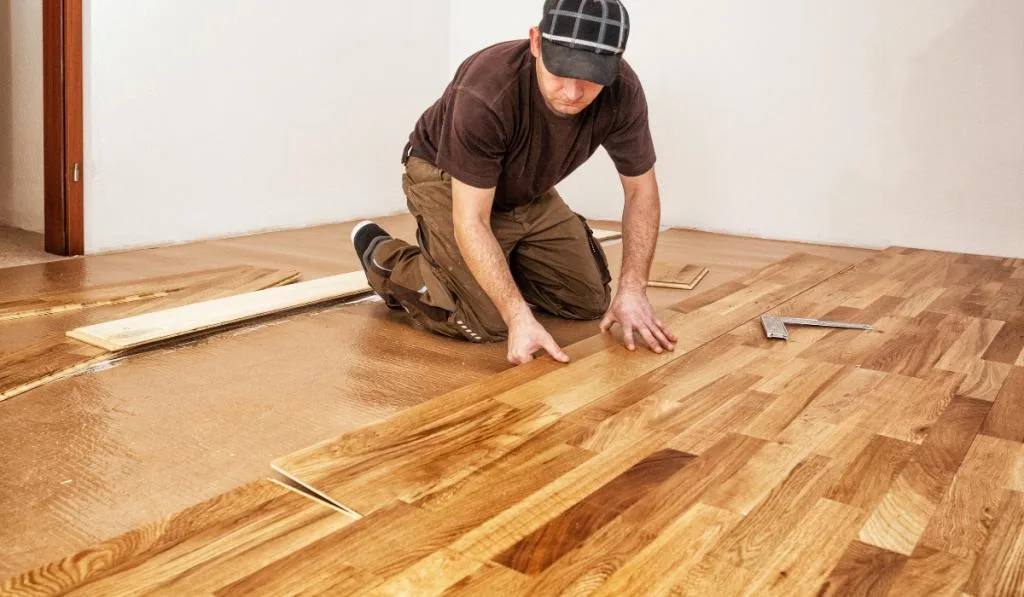 Engineered wood has a plywood core and a hardwood top. This flooring gives you the look and feel of solid hardware floors with more of a budget.
Even though this is a more economical option than solid hardwood, it's still one of the pricier flooring options on the market at $4.00 and up per square foot.
As with laminate, you'll need to lay down an underlayment during installation. Durability tends to be great, but the plywood core can cause issues when it comes to water.
If you decide to go with an engineered wood floor for your laundry room, be sure to look for a waterproof option. Even so, keep in mind that waterproof doesn't mean the floor can tolerate standing water.
In fact, the care and maintenance sheet for one popular brand advised to never use detergents or soaps, never pour any water or liquid directly onto the floor, and clean up liquid spills immediately. (source)
As you can imagine, all of those items are things that may happen in a laundry room. Considering that and the increased pricing, you may be better off selecting a different option for your laundry room.
Solid Wood
Price: $4.50/sq. ft. and up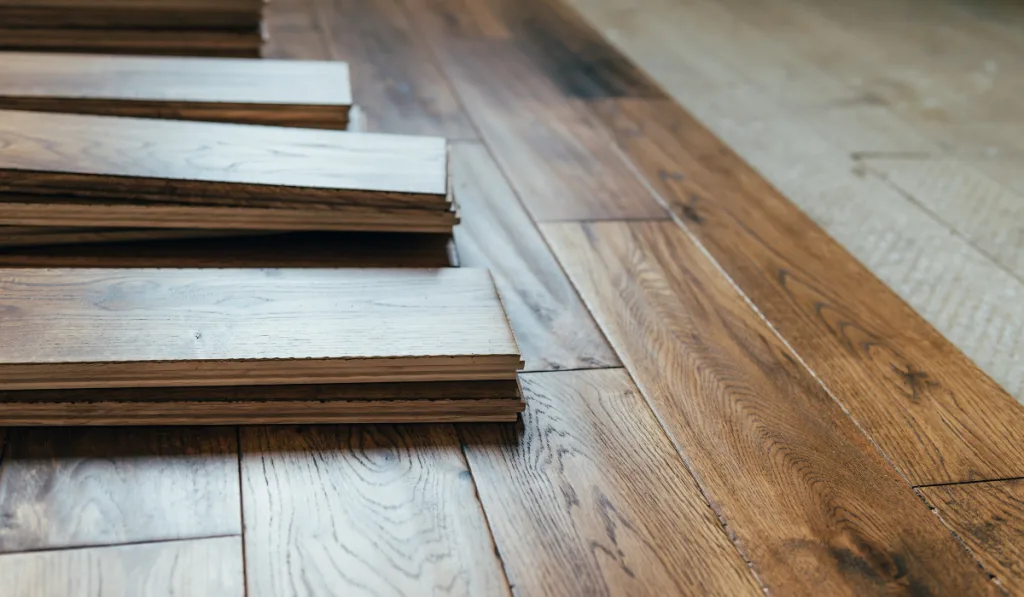 Solid wood floors are a timeless option for floors. Beautiful and durable.
As a solid wood product, you do have to worry about warping and even rot if the floor gets wet.
While you can lay the floor yourself, going the professional route is usually best due to the cost of the material itself. You'll also want to start with a very level base.
While you wouldn't want to rip out hardwood floors if they were present in a laundry room, adding them is typically not worth the expense or the risk.
Composite / Trex
Price: $6/sq. ft. and up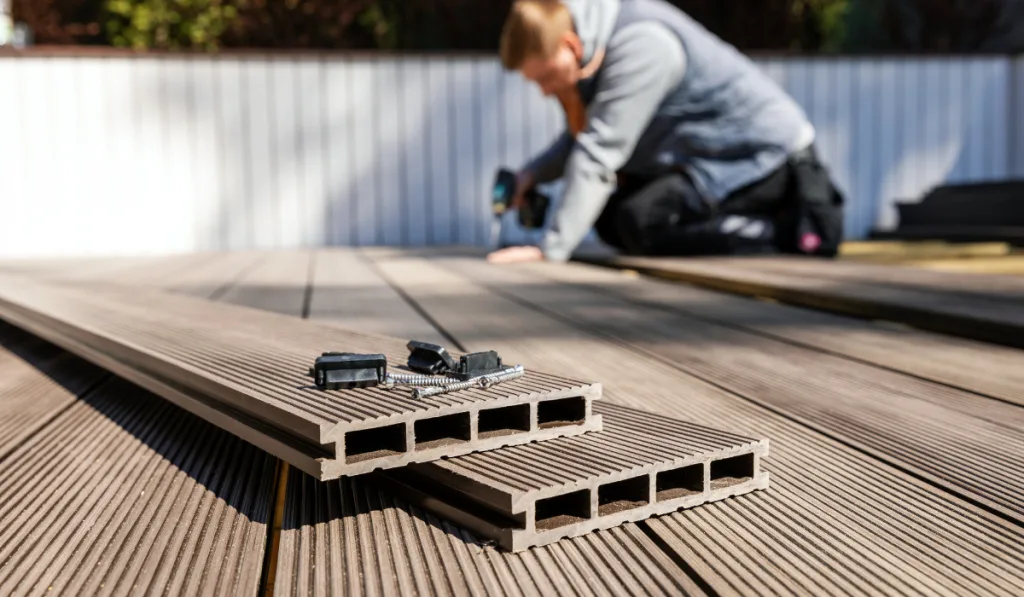 Composite flooring is most commonly seen in outdoor applications such as decks and porches. It can, however, be used indoors as well.
Typically comprised of recycled wood and plastic, this flooring type has superior moisture resistance. Composite flooring is available in both tiles as well as planks.
Composite decking materials are more expensive than indoor materials but make an excellent option if, as in my case, you have an area prone to excess water.
Composite flooring lends itself naturally to installation over a subfloor and can give you an elegant yet durable laundry room floor.
Final Thoughts
When it comes to choosing flooring for your laundry room, three options stand out as clear winners for a combination of durability and price:
With so many options, which one will you choose?